The judges are checking some possible underrotations. That would be a pity, because this is a beautiful skate, a wondrous mix of athleticism and artistry. She even let out a little yell upon nailing a late jump, and the crowd goes wild.
I'm sorry … Nagasu's personal best is so much lower than the others, how? She has launched into this free skate like an Elon Musk rocket. The second half opens with a big combo.
Wow! She nailed the triple axel. Just the third woman to do it in the Olympics, NBC tells us.
Mirai Nagasu is up. The former phenom, fourth in the 2010 Olympics, is back in the Games after being left out in 2014. She's going to try a triple axel, which isn't something a lot of women have landed.
Tara Lipinski and Johnny Weir are not happy. Yes, Rippon underrotated a jump. They're not arguing the technical scores, where Kolyada had an edge. They're arguing the component scores, in which Kolyada got an 86.22, just behind Rippon's 86.78. All for a program Weir described as "oatmeal."
The women's skaters, in order, with personal best free skates:
Mirai Nagasu (USA), 132.04
Kaori Sakamoto (Japan), 142.87
Gabrielle Daleman (Canada), 142.41
Carolina Kostner (Italy), 142.61 (2014 Olympics)
Alina Zagitova (OAR), 157.97
So if they finish in the order of their top scores, Italy and the USA would be tied for bronze heading into the last event.
So what else is happening at the Olympics right now? Glad you asked: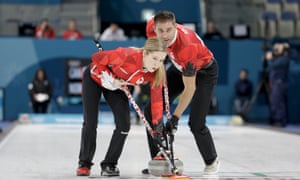 1. Canada has defeated Norway in the mixed doubles curling semifinal.
2. The women's slopestyle final is still delayed but might be starting in about 15 minutes.
Chan (Canada) 179.75
Kolyada (OAR) 173.57
Rippon (USA) 172.98
Rizzo (Italy) 156.11
Tanaka (Japan) 148.36
Team scores through six of eight stages
Canada 55 (all but clinched gold)
OAR 48
USA 44
Italy 42
Japan 38
That little discrepancy between Kolyada and Rippon could be costly. Instead of being two points behind OAR and three ahead of Italy, the USA is pretty much out of the race for silver and clinging to bronze.
But what's figure skating without a bit of drama?
Fridge break …
"Rippon just got royally ripped-off by horrible judging!" says Beth Derick by email. Yeah, it's hard to understand the component score.
Speaking of scores, we're still waiting on Tanaka's. Here we go: 148.36. Fifth place. Japan is basically out of this. Italy remains within shouting distance of the USA, and Carolina Kostner has the capability to make up the distance.
Tanaka lands a triple, and no one even applauds. He lost the crowd early. His technical score is shaping up to be about 18 points off the pace.
Tanaka was supposed to open with a quad salchow, then a quad salchow-double toe loop combination. He opened with a double salchow. Then a double salchow. He recovered a bit but then fell on an attempted quad and turned a triple-double-double into a shaky triple-single-single.
Music's nice, though.
Chan's score: 179.75. In another context, that would be disappointing. Here, it's probably good for first.
Last up is Japan's Keiji Tanaka. If you're rooting for the USA to take bronze, you want a score between Rizzo's 156.11 and Rippon's 172.98.
And still, Chan's technical score is close to Kolyada's and Rippon's. He simply has so many high-scoring elements. He'll get a one-point deduction for the fall, but his component scores should put him in first. When he wasn't touching the ice, he was simply grace in motion.
But Chan is human. A planned triple-single-triple combination becomes just a double axel with a shaky landing. And then he falls. And then he puts a hand down. This is more shocking than the men's luge final, where Germany's Felix Loch banged into some walls and missed the podium, let alone the gold.
Rippon's score: 172.98. Behind Kolyata by 0.59 points. Please don't check Twitter right now.
Next up: Canada's Patrick Chan, who kills a quad-triple combination to start. He's just in another world. Placing first in this group should be a formality.
All the yellows are gone. His technical score is ahead of Kolyada's. If Kolyada's component scores are higher, then I don't know what they're watching. He is fist-pumping and jumping.
Was that a little smile for the judges? Rippon seems very confident. And the in-progress technical score backs him up on that. He's going to be very close to Kolyada. He did his job tonight and more.
He's through his toughest element, a triple-double-double combination, just before Chris Martin's voice comes in to remind you that we're listening to Coldplay. He has one yellow dot suggesting an element under review, but this is nice so far.
A quad lutz is listed as Rippon's first element, but NBC's Tara Lipinski says he took it out, opting to make sure he goes clean. And through one jump and one combination, he certainly seems clean.
Rizzo's score: 156.11. Not even his season best. I don't get it.
Here's Adam Rippon, who can put the USA in terrific shape for a medal. Beating Rizzo would help. Beating Kolyada would be huge.
If Kolyada's program was a guitarist trying a sweep-picking solo and messing up a bunch of notes, Rizzo's was an elegant Mark Knopfler excursion, smooth but not flashy. His technical score won't match Kolyada's because Rizzo goes without the magical "quad" jumps, but that was an enjoyable program, and that still counts for something in this sport.
Kolyada's score: 173.54. Now here's Matteo Rizzo for Italy, skating to a Beatles medley. Rock and roll will never die.
I have access to technical scores, because I'm special (OK, they're in the enhanced live stream), and Kolyata did indeed get some nice scores for elements in the second half of the program. But the start was brutal. And though I'm often wrong about such things, I can't imagine he'll get good component scores.
Kolyada does indeed rally a bit. He lands a quad jump, and such things get bonus points in the second half of the long program.
But personally, I prefer UB40's version of I Can't Help Falling With You.
It gets worse for Kolyada. He was supposed to do a quad-triple competition. He two-footed the landing on the first jump, which means he didn't even attempt the second jump.
But stay tuned. Skaters often rally later in a program, and they can always add a jump combination if they're up to it.
And it's an athlete from Russia but not representing Russia, Mikhail Kolyada, skating to an Elvis Presley medley. Why not?
He starts with a quad lutz … and falls.
The men competing here, in order of appearance, with the scores from their personal best free skates in international competition:
Mikhail Kolyada (OAR): 185.27
Matteo Rizzo (Italy): 157.34
Adam Rippon (USA): 182.28
Patrick Chan (Canada): 203.99
Keiji Tanaka (Japan): 169.63
Spoiler alert: NBC is still showing women's moguls from earlier. Meanwhile, skaters are taking to the ice for the men's phase of the team event, which is why we're here.
NBC should still have time to switch over before the skating begins in earnest, but if it doesn't, be warned that we will not be waiting on them.
Pro tip: If you want to know what each skater is planning to attempt, go to the official site and click the "+" to expand the info.
This is important because you may often see something that seems impressive, only to find it was supposed to be something else. They're not necessarily penalized for that, but if a triple becomes a double, the number of potential points drops. And the commentators will usually let you know.
Meanwhile, Canada leads Norway 3-2 in the fifth end of the mixed doubles curling semifinals. With the wind whipping around the mountains, not much else is going on at the Olympics right now.
Good day to be inside …
We have an update on Mikaela Shiffrin's schedule …
"Good morning from Pyeongchang, where the bad news is that the women's giant slalom is postponed due to high winds," writes Sean Ingle in, er, Pyeongchang. "It will now take place on 9.30am local time on Thursday, before the men's downhill. That, if you remember, was due to take place yesterday but was postponed after 50 mph gusts made it impossible for the gondolas taking the skiers up the mountain to be safely operated."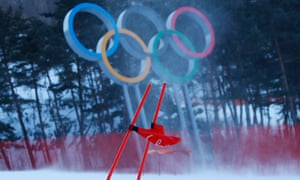 A few facts for figure skating newbies …
1. The difference between the short program and the free skate is simple. The short program is shorter. It's two minutes and 50 seconds, no more (lest you attract the digital thumbs-down from the judges). Free skates are in the 4-minute to 4:30 range, varying slightly by event. (We're preparing to watch, not judge it with a stopwatch. If you're doing that, you can probably skip the rest of this entry.)
2. If you think figure skating is still judged with a 6.0 as the top score, welcome back from your cryogenic freeze. Skaters get a technical score, which is based on degree of difficulty of various elements and a score on how well each one is done. That score is shown while skaters are on the ice, though it'll be reviewed after the program. Then we have the familiar wait for the judges to weigh all that and the second part of the final score, the presentation score.
Want to know more? Go to the International Skating Union.
Meet Adam Rippon. The USA has two openly gay male athletes on the 2018 Olympic teams, Rippon and freestyle skier Gus Kenworthy. That fact, juxtaposed with the presence of vice president Mike Pence at the Opening Ceremony, drew just a bit of attention.
Tonight, Rippon faces some apolitical pressure. (Perhaps. Figure skating judging is still not an exact science.) He's probably not a medal contender in the men's individual event, but he'll be called upon to maintain the USA's tentative grasp on a medal, especially given the modest credentials of fourth-place Italy's Matteo Rizzo. Figure skating may not be the sort of sport that makes people think of going after a rival team's weakest links, but that's basically what we have here.
The women's skate will see the USA's Mirai Nagasu, who finished fourth in 2010 but was left off the team in 2014, going up against Grand Prix final champion Alina Zagitova (OAR) and 31-year-old Italian Carolina Kostner, a bronze medalist in Sochi.
Then it's up to the "Shib Sibs," the USA's ice-dance duo of Maia and Alex Shibutani. They're medal contenders in their own right, but Italy counters with the strong duo of Anna Cappellini and Luca Lanotte.
So if you were hoping for a USA-Italy showdown in next year's World Cup (the men's soccer variety) and can't shake your disappointment about both teams failing to qualify to that tournament, tune in tonight.
Here's the situation (old-school Will Smith fans reply: My parents went away on a week's vacation):
Through two days of competition and five … stages? What do we call the events within the event? Anyway, the field of 10 teams is narrowed down to five after each team does a short program. Unlike the grad-school math required to calculate individual skaters' scores, the overall team-event scoring is rather simple. Winner nets 10 points for his, her or their team. Second place is nine. Third is eight, and so on.
As it stands now, the final five are:
45 Canada
39 OAR (Russia but not Russia)
36 USA
35 Italy
32 Japan
In other words … it's close.
And if you were thinking of watching Mikaela Shiffrin in the giant slalom instead of this, you're out of luck. The high winds that have forced several schedule adjustments have struck again, and the giant slalom will not run today.
Let's go, team!
Hello everyone. I'm Beau Dure, your host for a big evening of figure skating. The team event will be decided by these three programs:
8 p.m. ET: men's free skate
9:10 p.m. ET: women's free skate
10:20 p.m. ET: free dance
Stay tuned for all the action and selected quips.
Beau will be here shortly, in the meantime here's more on a dramatic end to the men's luge competition:
David Gleirscher struggled to make Austria's Olympic team and Chris Mazdzer's season hit rock-bottom less than a month ago. In the end it didn't matter: they finished with gold and silver medals respectively as the Olympic reign of Germany's Felix Loch came to a stunning and sudden end.
Gleirscher was the surprise first-run leader and a bigger surprise as the leader when it was all over. He finished his four runs at the Alpensia Sliding Center in 3 minutes, 10.702 seconds for the gold, Austria's first in men's luge in 50 years.
Mazdzer made history for the US, giving the Americans their first men's singles medal by finishing second in 3:10.728. Germany's Johannes Ludwig took third in 3:10.932.
Click below for the full story: