At first glance the most startling aspect of the Manchester derby tunnel fracas is the fact it seems to have been kicked off by José Mourinho knocking on the dressing room door and going toe-to-toe with Manchester City's players. Hearing this, you wondered: why now? The fronting-up, the ballsiness, the stick-it–to-them bravado. Where was all this an hour and a half ago when the score was 0-0 and there was still a match to be won?
At which point, with the day still wide open and the spoils there to be claimed, Mourinho's men didn't go banging on anyone's door. Instead the players of Manchester United coiled back in their own half like a red-shirted draught excluder, abasing themselves in this grand old stadium before the perceived – and conceded – superiority of their opponents
Given his tactics a more consistent approach from Mourinho, hearing the music through the wall, would have been to go in and offer to turn the volume up, to sway along like a wallflower at the edge of the dance-floor, to add a whoop or two of his own. Taking the fight to City then just seemed a little sad, like stumbling back in though the door shouting and-another-thing half an hour after losing the argument.
Not that Mourinho will spend a second of his time feeling any regrets about this. United's manager is nothing if not furiously resilient and bulletproof in his self-regard. Alex Ferguson was the same. This is how successful people keep on winning. No doubt in Mourinho's mind the fracas was a matter of necessary resistance, evidence of enduring life, a sign that the war is still on, no matter how grave the loss on the battlefield.
As for the fracas itself, no doubt more details will emerge in the next few days. The worst of it so far is the facial injury suffered by Mikel Arteta. If it was indeed Romelu Lukaku who struck Arteta with a bottle, as some reports suggest, Arteta can at least console himself with the certainty Lukaku was probably aiming for Pep Guardiola at the time.
Otherwise a little milk has been thrown. Some pushing and shoving has taken place, an argument in Portuguese been pursued. There will be a temptation for some to raise a perfumed handkerchief to the nose, to make shrill noises about someone, somewhere, thinking of the children; and to frame this as yet another story about footballers setting a terrible example by acting like average, flawed human beings in a moment of extreme stress and tension.
In reality none of this adds up to much more than a small hill of beans. Football is a painful, passionate thing, just as all team sports bring out a fairly basic range of emotions. After two hours in the public lens it is unsurprising even elite level footballers might lose control now and then.
Acts of aggression must be discouraged. But there is still, whisper it, something secretly heartening about the fact these actors in our drama feel the moment so strongly, that there is something real at the bottom of all the froth. This is, at least, the exact opposite of swapping shirts at half-time.
When it comes to matters of fault and protocol there are two things worth saying. First, Mourinho does have a point. There is a code of behaviour. Teams know exactly what they're doing when they whoop and shout and gloat. Back in the more savage 1980s Wimbledon would shout and yell and play music through the walls as a deliberate provocation pre- and post-match. City knew who was listening. That they didn't particularly care speaks volumes of relations between the teams.
As for Arteta, he has form in this regard. The otherwise placid Lionel Messi told City's assistant coach where to stick it as Arteta celebrated wildly on the touchline after City's defeat of Barcelona at the Etihad last year. Presumably Messi, who has been playing this game for a while now, will feel on some level Arteta got what was coming to him.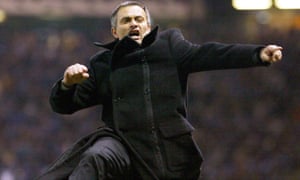 But then this kind of aggressive public celebration is a relatively new thing. Jürgen Klopp has annoyed managers and players with his relentless cheerleading, the kind of yowling and yelping that would look unseemly – and end very badly – in the average Sunday league match. Mourinho was moved to grasp Antonio Conte by the elbow at the end of Chelsea's 4-0 defeat of Manchester United last season and whisper about decorum and respect.
All of which makes Mourinho's actions on Sunday more interesting, if only because his entire career is based on a lack of respect, its best moments a monument to triumphant iconoclasm. No other manager has ever "played the occasion" with such relish, has disregarded all normal rules of basic human courtesy and etiquette with such relish in pursuit of his own toxic theatre.
This is the same Mourinho who announced himself with that thrillingly look-at-me sprint down the Old Trafford touchline when he was Porto manager. The same Mourinho who ran across the Camp Nou turf waggling his arms around after Inter beat Barcelona in 2010, prompting Víctor Valdés to stop him and demand exactly this – more respect, more restraint. The same Mourinho who celebrated ending Liverpool's title challenge at Anfield in 2014 by leaping about on the touchline and gesturing violently toward the away end.
This is not a criticism. This version of Mourinho is the best version, the most successful version, the version that has been so captivating (and so captivatingly awful at times). Plus of course there is the football element. Too much respect on the pitch, too much courtesy, too little in the way of whooping and dancing and turning up the volume: this has been Mourinho's problem in key matches so far at Manchester United.
This is a question of degree. There is also something thrilling about throttling an opponent, or counterpunching your way to victory. It is true that United did start to attack at Old Trafford once they had gone behind. But by then the initiative had been conceded.
Mourinho had picked a team full of attacking talent, raising hopes United might counterattack with the same high-pressing energy that had so confused Arsenal at the Emirates. Instead Anthony Martial spent the opening 20 minutes as an auxiliary right-back. The weak points in Manchester City's team – a defence containing two jobbing central midfielders, the physical travails of Vincent Kompany – went untested until United were chasing the game.
Chelsea's pairing with Barcelona in the Champions League last 16 on Monday morning was a reminder of perhaps the most thrilling Mourinho game in England, the 4-2 defeat of the same opponents at Stamford Bridge that saw Chelsea launch a blitz attack at the start, scoring three times in the opening 19 minutes.
Mourinho seems to have either lost interest in showing such adventure against the stronger teams, or to lack any real trust in his current squad. Unfairly perhaps. Kevin De Bruyne and David Silva are not Messi and Xavi. Man for man United's players must feel they have the ability to engage this Manchester City team in an actual game of football at Old Trafford.
It is hard not to see the tunnel fracas and the slightly jarring demands for more and greater respect as something more, a case of the great iconoclast feeling the sting of his own methods. Not to mention a desperately overdue response from a manager who had spent the last two hours offering too much of that same commodity – respect – to United's arch city rivals on the pitch.
• Sign up to our weekly email, The Recap, here, showcasing a selection of our sport features from the past seven days.