Glamorgan all out 359 . Incidentally Hugh Morris has announced that Glamorgan will be holding an external review at the end of the season, with the results presented to the Board next month.
"Every summer we have an internal review where we look at the things we have done well and not so well and we will implement changes," Morris said
"Given the results we have had this summer we are seeking to have an independent external review of what we do….We have had a desperately disappointing season, especially results in the championship in the second half of the season and we can't sugar coat that and the fans recognise that."
Sussex 57/2 in their second innings – a lead of four runs over Northants -a couple of wickets for Brett Hutton.
And against all odds, Lancashire are in with a chance of passing the magic 300: Rob Jones 44 not out, Dane Vilas 27 not out: Lancashire 196/5.
Somerset all out for 463. Yorkies 37/1 chasing Worcestershire's first innings 340 – Adam Lyth out for 27.
As it should be:
Stop all the clocks: Trott is in at Edgbaston for possibly the last time.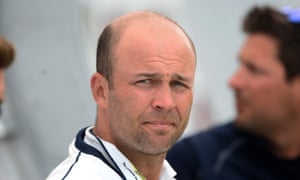 Jamie Overton's been having a go at Trent Bridge – 10 fours in his 54. Take that! Somerset 457/9.
And some interesting hints about the Lions squad from our Will.
Will Rhodes out for 110 at Edgbaston; and here at The Oval Essex lose another – Ravi Bopara bowled for 8. 237/3
Also this from Moeen Ali's appearance on the Today programme this morning. Speaking about being called "Osama" by one of the Australian players: "You always get some stuff from the crowd here and there but that was the one that really not just upset me but you can't believe someone actually said that.
"We tried to deal with it at the time, it's been investigated so it's all done now, it's all in the past. (But) there's no room for that in life in general, not just in sports.

"There's ways of trying to put your opponent off and sometimes you don't have to say anything. You can have a passion and things but we play so much cricket, for me it's more important to be a good person and try to play the cricket the right way."
Worcestershire all out for 340 – Brooks 6/94. Yorkshire are 12/0 in reply. How will they bat now survival is assured – a touch of the Surreys? Or the Glamorgans?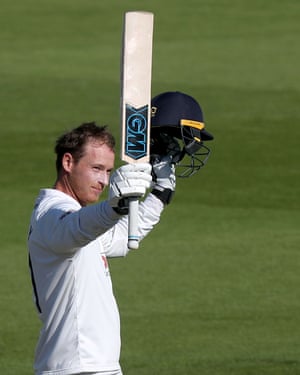 After being alerted by Longhop BTL (thank you!), I read David Hopps' piece on cricinfo. It does indeed suggest that Trescothick hasn't yet signed his one year contract offered by Somerset. Say it ain't so.
A wicket at Trent Bridge – a sixth wicket for Harry Gurney, Somerset 405/8.
And a hundred for Tom Westley, 213 balls, 17 fours – back in gorgeous form. Lots of chat here about how what a good influence Murali Vijay has been on Westley's batting. Not so much which balls to hit but which balls to leave. I heard them saying on the radio yesterday how Westley was too good a player not to come back into the England reckoning – discuss…
A wicket at The Oval, Dan Lawrence lbw for 17 after glancing a lovely four to the boundary.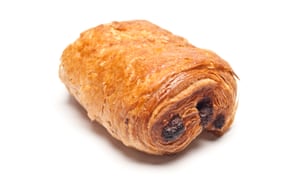 Mmmm, a warmed, flaky pain au chocolat to start the day and round the country wickets are already a-falling.
Worcestershire lose Twohig, lbw to Coad for 30. And Lancashire lose Livingstone for 46 – that 300 looks far away at 123/5. DOOM is searching for just a couple of letters now – it shouldn't take long.
Division One
New Road: Worcestershire 319-8 (Mitchell 127, Moeen 60; Brooks 5-83) v Yorkshire
The Oval: Surrey 67 all out, Essex 197-2 (Westley 93no, Vijay 80)
Essex lead by 130 runs
Trent Bridge: Nottinghamshire v Somerset 353-7 (Hildreth 137, Trescothick 71, Davies 55; Gurney 5-66)
Ageas Bowl: Hampshire 187 all out v Lancashire 123-4
Lancashire trail by 64 runs
Division Two
Edgbaston: Warwickshire 148-0 (Rhodes 102no), Kent 167 all out
Warwickshire trail Kent by 19 runs
Northampton: Northants 171 all out, Sussex 118 all out & 4-0
Sussex trail Northamptonshire by 49 runs
Cardiff: Glamorgan 331-8 (Carlson 83, Meschede 55) v Leicestershire
Riverside: Durham 227-5 (Harte 76, Richardson 50) v Middx 121 all out (Salisbury 6-37)
Durham lead Middlesex by 106 runs
Derby: Derbyshire 184 all out (Reece 59; Miles 5-50) v Gloucs 100-5
Gloucestershire trail by 84 runs
Fresh, cold, clear with light jackets and a cappuccino de rigeur on the Harleyford Road.
A most peculiar Monday yesterday here for the Champions, who were bowled out for 67 – their lowest CC score since 1986. According to someone who was here yesterday it was a day of thirds – hopelessly difficult to bat, easy to bat, then impossible to score a run. Tom Westley and Murali Vijay put on 146 for the second wicket to give Essex a 130-run lead at the close
Over at Edgbaston, Warwickshire are well on top against Kent and closing in on the Division Two crown; down at The Ageas Bowl Lancashire's hopes of saving themselves from relegation are receding. They got maximum bowling points, but need to pass 300 in the first 110 overs of their first innings to even mathematically keep in the race. Yorkshire are safe, despite a good day for Worcestershire and a century for Daryl Mitchell. Somerset are having the better of the game at Trent Bridge, and have nearly secured second place, Notts need a further three points to ensure Div 1 survival.
In Division Two, wickets tumbled at Northampton, The Riverside and Derby while Glamorgan batted beautifully to irritate Leicestershire at Sophia Gardens
In other news, Andrew Flintoff has said that Ben Stokes is not the same cricketer since his trial; and Stuart Law is the surprise choice as the new Middlesex head coach. He will start his four year contract in December, leaving his job coaching West Indies after the tours of Bangladesh and India.
One last thing, I caught the end of a fascinating programme on Radio 4 last night – where Rob Eastaway, cricket statistician and writer, was talking to Michael Rosen on Word of Mouth, not about cricket but about language. Made me think that perhaps by talking about ten ball overs, all the ECB were trying to do was decimalise cricket? Just not sure how the orange ball fits in yet…