Here's today's top 10:
Here's Sean Ingle's report on Thomas's victory:
Thomas safely crosses the finish line having kept himself out of trouble throughout, and his coronation is complete!
The European champion comes through to cross the line first!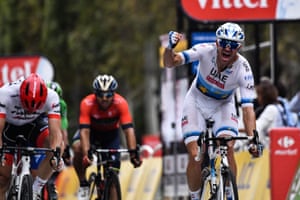 200m to go: Yes they can!
700m to go: Lampaert suddenly opens up a massive lead! Can anyone catch him?
2km to go: Yves Lampaert launches an optimistic solo attack, helped for a bit by Daniel Oss.
3km to go: Bahrain Merida move to the front for the first time today. The two Izagirre brothers are together at the head of the peloton.
5.5km to go: Politt is caught, and there will be a group sprint for today's victory.
7km to go: The breakaway group is about to be gobbled up by the peloton, but before that happens Nils Politt has launched a solo break at the front. He crosses the finish line first, a few seconds ahead of the rest. Into the final lap!
10km to go: Peter Sagan moves himself towards the front of the peloton. It's only a couple of days since Sagan was considering abandoning the Tour, now he wants to win its final stage. "A normal human would have packed it in, but he's not normal," writes Tim Clayfield. "In all the excitement in the UK about Thomas and Sky, this is a story that you've left behind."
11km to go: The breakaway lead is down to around 10 seconds, and seems very unlikely now to succeed.
11.5km to go: A counter-attack is launched, with Julian Alaphilippe one of two riders to break clear of the peloton.
12.5km to go: The breakaway group appears to be breaking. Their advantage is currently at 17 seconds.
13.5km to go: Back across the finish line, and the lead is at precisely 20 seconds with two laps remaining.
15km to go: Cofidis have helped the peloton to almost half the breakaway group's advantage, which now stands at just over 20 seconds.
Fair point, Adrian. PR failings aside this has been a great Tour for Team Sky, and Thomas's victory would have been vanishingly unlikely with significantly weaker support.
19km to go: Cofidis have joined in with the fight to catch up with the breakaway group. There is still plenty of time to do so, but that lead remains stable. It's currently at 33 seconds.
20km to go: The leaders cross the finish line again, and there are three laps to go.
20km to go: The breakaway group has reconvened, with Phinney back among them, and their lead has gone back out to 36 seconds.
"Following on from ITV4's assertion (much) earlier about Thomas being the greatest Welsh sportsman; I think this might be the greatest individual achievement in Welsh sport," asserts Matt Dony. "Woosie won one major, but had many more attempts. There have been fantastic achievements in snooker, but the sport doesn't have a wide enough base. Beyond that, the great Welsh sporting individuals have played team sports. Bale having a big hand in delivering La Decima deserves a nod, but as far as greatest individual goes, I agree with you about John Charles. Had he not been injured for the Brazil match in 1958, this conversation would be moot. But, as far as individual achievements go, this will take some beating."
26km to go: Phinney's saddle is being worked on as he goes. Eventually he gives up and stops to switch bikes. He lost a lot of time attempting to avoid the switch, but to no avail, and the breakaway has suffered badly while it happened. They now lead by 31sec.
27km to go: A hiccup for the leading six, as Phinney is having trouble with his bicycle. An issue with the saddle, apparently.
The leaders cross the finish line again. There are four laps to go.
28km to go: Despite their efforts, the breakaway group continues to gently stretch their lead, which is currently at 45sec.
The teams of the big sprinters are engaged in an increasingly desperate attempt to overhaul to leading six. Peter Sagan's Bora-hansgrohe are at the front as I type.
33.5km to go: Another circuit completed, and the six continue to lead, with a gap of about 40 seconds.
41km to go: Taylor Phinney has to drop back to a support car to check how many circuits they still have to do. The answer is six.
45km to go: The six riders in the breakaway represent six different teams and five nationalities. Their lead is a humble 22sec.
46km to go: Those six riders in full: David Gaudu, Silvan Dillier, Taylor Phinney, Nils Politt, Guillaume Van Keirsbulck and Michael Schar.
48km to go: Chavanel has been caught, and an actual proper competitive breakaway has broken away. There are six riders in it.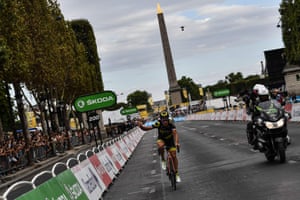 54.5km to go: The peloton crosses the finish line. This doesn't mean that they've finished, but that they are now on the first of eight circuits of the locality.
Julian Alaphilippe gets a puncture, and has to stop to swap bikes.
60km to go: Direct Energie's Sylvain Chavanel launches a solo attack, or is allowed to a bit ahead of everyone else for a bit. This is the 39-year-old's final Tour, which is why he's been allowed to soak up a bit of applause by himself.
62km to go: Team Sky are, as per usual, at the front of the peloton as it passes Porte Maillot and thus officially enters Paris.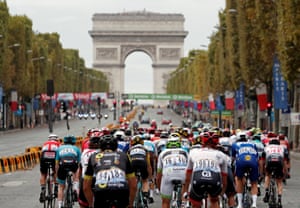 The last place the Tour passes through before it hits Paris is Saint-Cloud. Saintliness was Cloud's family business: his grandmother was one too. Cloud is the patron saint of not carbuncles. I don't really understand of being the patron saint of not something, but then I am extremely ignorant.
75km to go: Shameless self-promotion dept: Here's an article I wrote. Obviously since I filed it a few days ago it's hardly stopped raining, at least in London. That's British weather for you, forever contrary.
Ah yes, the 1989 Tour, which happens to be the one that Channel 4 opening sequence was for. That one certainly had a decisive final stage. Laurent Fignon did this for us about that race a while back:
80km to go: An important update from our nostalgia department:
Rennemoulin is next on the route. There are 50 houses in Rennemoulin, and 112 residents. Moulin is French for mill, and there were once two water mills in the town. One was known as Areine Moulin, hence the name.
The tour is passing through Chavenay. I have scoured the town's website in search of interesting information, but have emerged empty-handed. "The municipality covers 603 hectares, of which only 11% is urbanised, 65% is agricultural land and 8% is the footprint of an airfield. The rest, 16%, is occupied by woods or wastelands." There. That's the best I could do.
"Why do they call the last stage as ceremonial?" wonders Ino Abalos. "Technically, Dumouin can still try and make up the two-minute lead that Thomas has by taking an early break and push it? I know its improbable but at least try and put some pressure on Thomas? Is this the tradition for the final stage?"
The final stage is governed by strict etiquette. The winners of the various jerseys were presented before the stage began, and it simply would not do for them to be challenged at this stage. Thomas became the winner of this year's Tour yesterday. It is a bit of a curiosity, but the stage is rescued from redundancy by the sprint finish and its location, which makes it the most prestigious stage of all.
Gareth Bale famously went to the same school as Geraint Thomas:
Thanks to Paul Griffin for pointing me towards this thread, with a bit of Welsh cycling history. "It's about a stubborn and reading-between-the-lines bloody awkward gentleman who it seems prevented the Cardiff velodrome where the Thomas journey began being demolished to make way for a supermarket," he writes. "All over the country, men and women give their free time to make rather barren-looking velodromes fun, safe, and the first step on the path to great and not so great cycling achievements, and its lovely to see that selflessness rewarded. (Obviously it's marginally more inconvenient to buy two-for-one own-brand yoghurt in the welsh capital as a result but I think we can live with that)"
On ITV4 they suggest that Thomas's victory this year makes him at a stroke the greatest Welsh sportsman of all time. My money's on John Charles, I think.
Next the Tour reaches Poissy. People from Poissy are Pisciacais, for some reason. Poissy is home to Noyau de Poissy, which apparently is the "oldest secular liqueur in France" and is made by distilling Cognac-soaked apricot kernels and spices. Important vocabulary note: noyau is French for kernel.
This part of the stage is basically a mildly glorified photo opportunity. Team Sky with Champagne. Geraint Thomas with Champagne. Thomas with Welsh flag. Thomas and Luke Rowe with Welsh flag. Etc and so forth.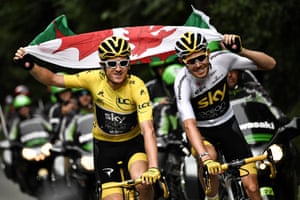 Two notable things about Saint-Germain-en-Laye, which will be passed in a few moments. 1) This is where King James II of England was exiled in 1688. The local castle was the official French royal residence before Versailles. 2) The reigning French champions Paris St-Germain was created when the local team, Stade Saint-Germain, merged with Paris FC in 1970.
Team Sky have gathered together at the front of the race to raise a glass of Champagne for the cameras.
The flag has dropped and the race is on! Slowly.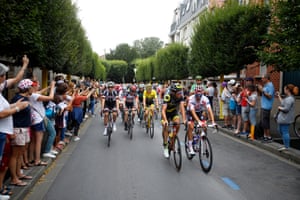 There are some genuinely fabulous photographs here. This is one of my favourites – it's the woman in red on the right, covering her mouth in shock, who makes it: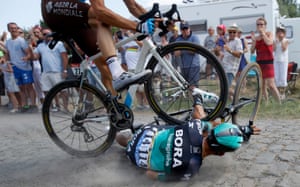 Today's stage starts in Houilles. People from Houilles are Ovillois. "Very close to Paris, Houilles nevertheless has a charm and a tranquility that is very provincial," the town's website says.
The rollout has begun! They have just under 2km before the racing, such as it is, gets under way.
Action is just a few minutes away. In the meantime, here's some pre-race reading. First, William Fotheringham on Thomas's success:
Given the variety of ways he has managed to fall off his bike over the years, it would have been unlike Geraint Thomas to complete a Tour de France without a jitter of some kind, but a disturbing skitter of the back wheel on an early corner in Saturday's time trial barely registered on his personal Richter scale. The Welshman is legendary for the injuries he has accumulated, among them the broken pelvis with which he completed the Tour in 2013, the collarbone he smashed in the Alps last year and the collision with a metal spring in Australia in his under-23 days which resulted in a ruptured spleen.
More here:
And here's William Fotheringham again, with an overview of a particularly punishing Tour:
Lawson Craddock's fist pump as he crossed the line in Saturday's time trial spoke volumes. The American had completed a three-week battle to finish the Tour de France with a broken shoulder blade, a challenge that had seemed improbable after he fell on the opening day. He had been a daily sight at the back of the peloton, on occasion fighting to maintain contact from relatively early on. That he had raised more than $100,000 for the hurricane-damaged Houston velodrome along the way merely added to the romance. Craddock was far from alone in his suffering [on] a Tour that seemed particularly cruel to its stars this year.
More here:
And finally, here's Jeremy Whittle's Tour diary:
And Dan Martin also speaks, in French. He says his Tour has been "un peu rollercoaster". "My back still hurts a bit, but it's always important to fight against pain and keep going," he says.
Peter Sagan has a quick chat:
116km today. After that, we're going to celebrate. I'll try to win today. It's not going to be easy. It's the last day, there's nothing to lose.
Tom Dumoulin has also had a very brief chat (you can still watch it live on Facebook here), about the Giro d'Italia/Tour de France double:
I think Chris Froome and myself proved this year that the double is possible. I'm very happy with my performance here.
Geraint Thomas has been interviewed during the podium signature before the start of the stage. This is what he said:
It's insane. It's the stuff of dreams, you know. As a kid I just dreamt of being in this race. Through the years the results have slowly built. To be in this position now is just incredible. Growing up with Luke, I was 12, he was eight, to be here with him now is just amazing. I think it'll take a while to sink in. It's just bonkers. I'm going to try to enjoy today, and certainly tonight.
Hello world!
Well, after three weeks le jour de gloire est arrivé for Geraint Thomas. A gentle 116km final stage into Paris will, barring accidents or unexpected protocol-defiance, conclude with the Welshman's coronation as history's first British-born Tour de France winner.
There is also a prestigious stage win to contest, and with the winners of the last nine sprints on the Champs-Élysées (Mark Cavendish, who has done it four times, Marcel Kittel and André Greipel, who have two wins each, and Dylan Groenewegen) among the astonishing number of sprinters to have started this race but failed to finish it. The only person still in the race to have won this final stage before is Daniele Bennati, now 37, who won it in 2007 but hasn't finished in the top 10 of any stage this year and is widely available at 150-1 for victory today. The favourites, in order, are Arnaud Demare, Alexander Kristoff and Peter Sagan, whose lead in the green jersey rankings has been unassailable for some time now.
So a gentle journey into Paris, a bit of cycle-based Champagne-sipping and several seconds of wild excitement await. Welcome!