Snowboarder known for his outrageous tricks has learned to control his fear when pushing the boundaries and could bring GB an early Winter Olympics medal in slopestyle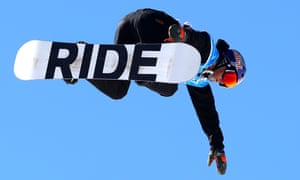 Sometimes, when Billy Morgan is steeling himself to fly as only he can, he feels just one sensation. Fear. The 28-year-old from Southampton is one of the world's top snowboarders, an originator of outrageous tricks, some of which have more than half a million YouTube views. He is also Britain's first medal contender at the Pyeongchang Winter Olympics, kicking off his campaign with slopestyle qualification in the early hours of Saturday, before competing in big air later in the Games.
Yet when Morgan stands on a vertigo-inducing hill, ready to hurtle towards a ramp that will launch him skyward, twisting and somersaulting before he lands, he feels like the rest of us would: his chest tightens, his heart rattling so loud he can hear it through the crowd's cheers.
"Sometimes it is more than other times but as I am getting a little bit older the fear comes on a little bit," he says. "We are now up at the limits of what we can do on a snowboard."
So how does Morgan overcome the heebie-jeebies? By telling himself two things. First, that he has always been able to calculate his risks with the surety of an insurance broker – so why should this time be any different? And second, that if he can control his nerves then anything is possible.
Risk and reward: these are Morgan's twin currencies. In 2015 they came together spectacularly when he became the first man to do a quad cork 1800, a spectacular jump involving four flips and five full rotations in little over two and a half seconds.
It was the snowboarding equivalent of being first to the south pole. Other, more famous boarders, had been chasing it, too, and felt they were close. Morgan got there first.
Yet in the sometimes cliquey world of snowboarding not everyone rejoiced. Some sneered he was merely a "gymnast on a snowboard" – a reference to Morgan's unconventional route in the sport, which began with him learning gymnastics and then acrobatics from eight to 15 before he began snowboarding on a dry ski slope in his mid-teens.
Morgan takes such criticism in his stride. Last week he told the Looking Sideways podcast: "It was probably because I wasn't one of the cool kids and I did tricks that were hard and hadn't been done before."
So what does he think about when he is floating through the air? Even for him the experience rushes by in a blur. "We don't have enough time to think about other stuff," he says. "I am often not like: 'What I am going to have for dinner tonight?' mid‑triple cork – I am just concentrating fully on seeing where the ground is and where the landing is coming from."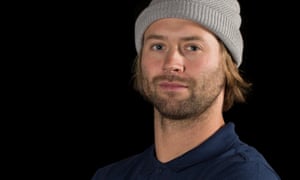 He knows if he gets it wrong the chances of concussions, broken bones or mangled ligaments are high. "So it's all about making sure you are reducing the margins of falling over on that trick," he says, pointing out that landing on South Korea's snow will feel more like ice given the forecast of -14C on Saturday. "Sometimes I feel less confident on the day. Sometimes my training doesn't go as well but I still have to do the hard tricks and that makes it more scary."
He pauses. "And doing a new trick is really dangerous," he says, softly. "If we did it all the time I'd spend half my time in hospital."
Morgan has made the podium at World Cup events three times and finished 10th in slopestyle at Sochi four years ago but it hardly helps that he injured his knee in December, leaving him unable to snowboard for several weeks.
He is hoping his athleticism – even at school he was known as "the backflip kid" – will give him at shot at being Britain's first snowboarding medal winner, although it may be he has a better chance in big air than slopestyle. Yet whatever happens he is keen to stress, like many in his sport, that medals are not his main motivation.
"For a lot of the snowboarders in my generation it's always been about fun," he says. "And there are so other many things about going to the Olympics that are really good. Seeing all the other sports. Being a part of the team. Representing your country. And finally getting to put all of that effort, training and graft into those runs."
He adds, smiling: "That said, I don't have a medal. So that would be decent, too."