My favorite subplot of this season: the organizational meltdown in Jacksonville.
The Jaguars' Tom Coughlin and Doug Marrone have built their entire program, and indeed their reputations, on the idea of discipline. That idea was notably absent in Buffalo on Sunday as the Jags lost their heads and lost the game – 24-21 – falling to 3-8 on the season. Star running back Leonard Fournette was ejected during a post-touchdown brawl after players from both teams clashed.
"You are going to have to rise up and also protect your own," Fournette said after the game. "At the same time, you can't have that. I apologize to all the kids who look up to me."
Fournette and Buffalo's Shaq Lawson were ejected from the game. The pair continuing to jaw as they headed into the tunnel, and a Bills fan appeared to make contact with Fournette as he was leaving the field. "My biggest thing was when the fan hit me. I had a problem with that," Fournette said. "He [Lawson] was saying what he had to say. I really don't care. Words are just words. They don't mean nothing to me. Just got to move on."
Selfishly, I want to see these dashes of personality mixed into a carefully choreographed ecosystem. Jaguars cornerback Jalen Ramsey is a truly delightful irritant. TV cameras captured him repeating "you're trash, you're trash" to the Bills bench. Josh Allen, who Ramsey had denigrated in the offseason, subsequently totaled 259 yards and two touchdowns, with no turnovers.
This is not the program Marrone sold Jags top brass on. Disciple and toughness, those are the coach's calling cards. He's not Pete Carroll.
It feels like a hundred years since Jacksonville walloped the Patriots in Week 2. The team have lost seven straight and are already out-of-the-running for a division in which they were once the favorites. The roster has become an injury-riddled mediocrity. Their once formidable defense looks pedestrian at best.
It's hard to play when your quarterback constantly barfs up turnovers and your defense doesn't gain many. Jacksonville have secured only 11 takeaways all season. They rank fifth in giveaways.
Remember last year's defense? They had that whiff of apex-Seattle about them. Snarling linemen, zooming linebackers and lockdown corners, all moving at hyper-speed shutting down every inch of grass. They baited great players into dreadful mistakes. They had a genuine fear factor. That's evaporated. Now, the Jaguars play fearfully. It's as though their defense know no matter how well they play, they can't overcome the team's flaws on offense.
Then there's another simple fact: Fournette's skills just aren't as valuable as they used to be. A one-dimensional running back, no matter how impressive that skill is, looks like a fossil in the modern game. Quarterback Blake Bortles, meanwhile, routinely goes through stints in which he simply forgets how to throw a ball: as in what order his feet and arms and legs and head and body should move. It's an almost impossible task to build a competent offense while hiding your quarterback. They've tried to find new, creative ways to plunge Fournette into the line. None of it has worked sustainably. They're cooked whenever they fall behind.
A year ago, this team was a play or two away from making the Super Bowl. Their defense was loaded. The offense was young. Free agency hadn't gobbled the depth out of the back-end of the roster yet. They had the assets to improve. Now they look a million miles away. Extending Bortles was a delicious bit of self-sabotage: can you imagine what wackadoo stuff this staff could draw up had they opted to select Lamar Jackson at the foot of the first round, rather than ride the Bortles experience again?
None of this is rocket science. The NFL is an unforgiving league. Teams rise and fall quickly, and sustained success is hard to find. Either you draft multiple Hall of Famers on defense – Baltimore, Seattle – or you land a franchise quarterback. Jacksonville thought they were on the path to the former. It turns out they're stuck with neither.
MVP of the week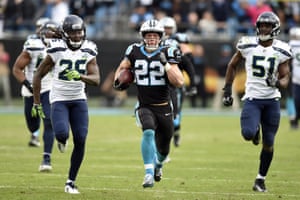 Christian McCaffrey sliced and diced the Seahawks defense in every way imaginable. He led the Panthers in rushing and receiving yards, catching a touchdown and rushing for another. McCaffrey finished the game with 237 all-purpose yards, averaging 8.4 yards per touch. It was the kind of one-man show few in the league are capable of. The Panthers still lost 30-27.
Quote of the week
"Left Cleveland goes down to Cincinnati. I don't know. That's just somebody that's in our locker room asking for us to play for him and then goes to a different team we play twice a year. Everybody can have their spin on it, but that's how I feel." – Browns quarterback Baker Mayfield on ex-Browns head coach Hue Jackson.
There was a certain beauty – for Browns fans at least – in watching Mayfield and Nick Chubb torch Jackson's new team. Jackson is a "defensive advisor" to the Bengals, a vague role that is tantamount to assistant to the regional manager. Jackson benched both Mayfield and Chubb to start the season during the final season of his failed stint as the Browns head coach.
In reality, Jackson has little input in Cincy. He's close to head coach Mavin Lewis, and he's with the Bengals to provide analysis of their defense from an offensive perspective, not impact the team on gameday. That didn't stop the Browns getting their kicks in, though. Safety Damarious Randall capped an interception by handing the ball to Jackson along the Bengals sideline:
As for Mayfield, he's had much more success since Cleveland kicked Jackson to the curb. In three games, Mayfield has thrown for 771 yards, completed 73.9% of his passes, chucked nine touchdowns to one interception, and has a passer rating of 129.5. The Browns are 2-1 in those games.
Video of the week
Look at the big fella move! With that completion, Rivers tied the NFL's all-time completion record. He went on to complete 28 of 29 for 259-yards and three touchdowns against a lackluster Cardinals team in the Chargers' 45-10 win.
Great quarterback play isn't always spectacular, and sometimes it resides in the absence of spectacle. Getting the team into the right play, adjusting the protection, throwing on time and in rhythm. Rivers is a pre-snap magician: give him long enough, and he will figure out any defense.
Tweet of the week
During the Patriots-Jets game, CBS cameras caught the Pats' Cordarrelle Patterson grabbing Henry Anderson's nether regions. Needless to say, Anderson's fiancé was not impressed.
Asked for his own response to this odd scoop and score, Patterson said: "I'm a grown man. I don't need no one's ass and dick and balls in my face."
Stat of the week
Andrew Luck tossed three more touchdowns as the Colts beat the Dolphins 27-24, extending his streak to eight consecutive games with three or more touchdowns. Only Tom Brady, Peyton Manning, and Dan Marino can match that; not bad company.
Elsewhere around the league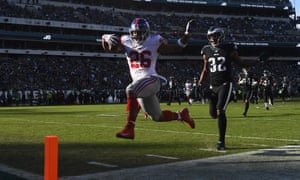 – Stefon Diggs and Adam Thielen continue to dazzle in Minnesota. The pair of shifty receivers combined for 16 receptions, 202 yards, and two touchdowns, more production than all of the Packers receivers combined. Diggs and Thielen make bad throws look like good ones. There isn't a better one-two receiving punch in the NFL.
– It feels like another wasted prime Aaron Rodgers year. The Packers fell to 4-6-1 after losing on Sunday Night Football, the same record as the Cleveland Browns. Rodgers hasn't been consistent this season, at least by his own lofty standards. But the brunt of the blame should still go to his coaching staff and supporting cast. There's been a sense of inevitability about this Packers season since the off. Change cannot come quick enough for the organization and its star.
– Denver have now beaten the Chargers and Steelers, two of the best teams in the league, in back-to-back weeks. The Broncos are a great example of how one-score games build narratives. Denver have played in eight one-score games this season. The win over Pittsburgh pushed them firmly into the wildcard hunt at 5-6. This is a legitimately good team who will give any team in the AFC problems come January, if they make the playoffs.
– Saquon Barkley put up another huge game for the Giants against the Eagles. The rookie posted his season averages in the first half, as the Giants romped over the defending Super Bowl champions. Credit to Philadelphia's defense, though, they clamped down in the second half and restricted the Giants offense to three points, despite having six defensive backs on injured reserves as the Eagles came back to win 25-22.
– Ravens' rookie quarterback Lamar Jackson looked more comfortable in his second start. He had difficulties throwing from the pocket, but his legs bring a different juice to Baltimore's offense. Jackson is the only Super Bowl-era QB with 190 rush yards in his first two starts. In the two games with Jackson at the helm, the Ravens' offense has averaged over 400-yard, almost 100 more than with Joe Flacco. The Ravens will have an interesting decision to make when Flacco is cleared to return.
– The 49ers released star linebacker Rueben Foster on Sunday morning after he was arrested on allegations of domestic violence. Foster faced previous domestic violence charges from his ex-girlfriend earlier this year. Those charges were dropped in May when she recanted her claims alleging Foster had hit her in February. He did plead no contest to a weapons charge and was suspended by the NFL. Foster was arrested at the team's hotel in Tampa on Saturday night. He has been charged with one count of misdemeanor domestic violence. "One of our tenets is 'protect the team. He didn't protect the team," Niners general manager John Lynch said when addressing the media on Sunday. Not once did he mention the alleged victim.