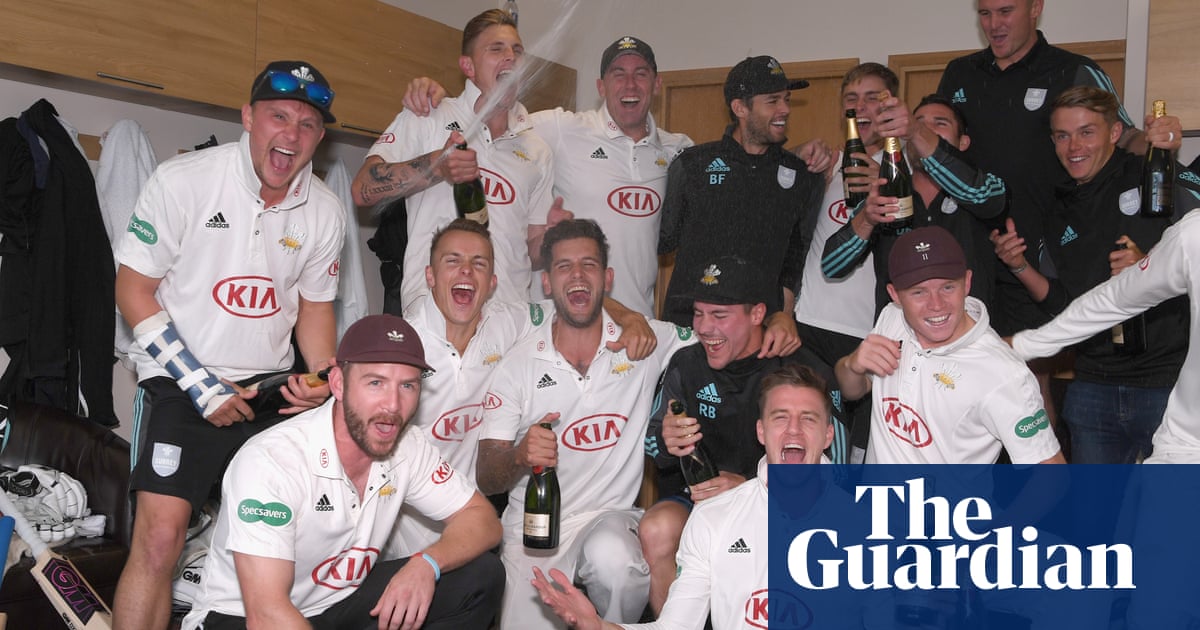 Rory Burns, England's opener-in-waiting? An off-spinner coming up through the age groups. Batted No 8 until he was 17. Still secretly bowls very good off-breaks. Olly Pope, England's 10th youngest Test batting debutant of all time? Didn't score a fifty until he was 16. And while you're here, Sam Curran, 11 wickets against India, man of the series? Always a batsman coming up. Bowled "floaty little left-armers and a very quick bouncer".
If you want deep background on the most gripping bunch of young cricketers in the country, or arguably anywhere in the world right now, the best people to speak to are probably the ones just off stage. Much has already been made of the home-grown nature of Surrey's County Championship pennant, sealed last week with victory against Worcestershire at New Road. But it is an achievement that gets a little more striking the closer you look.
Surrey's title-winning team featured 13 home-grown or academy players. Eight of nine championship hundreds en route to the title were scored by home-grown batsmen. Surrey took 216 wickets to win the title. Fifty went to the relentlessly brilliant Morne Morkel. The others, all 166 of them, were taken by home-grown Surrey-system bowlers.
There will be a reflexive splutter in some quarters at suggestions the Oval, knows as "Colditz" to another generation, and home after that to some unpleasantly swaggering young cricketers, is now the model of a modern talent nursery. Surrey remain the richest county in England, powered along by the money-rinsing machine that is the Oval, also known as London's biggest outdoor beer garden. They have some big-money signings on their books but look closer and something extraordinary has happened.
This is a lineage that runs from the returning godfather Rikki Clarke to the 20-somethings Pope, Amir Virdi, Ryan Patel, Will Jacks, the Currans and plenty more. Add to that champion team four new home-developed Test players in the last eight months, in Curran, Curran, Pope and (fingers crossed) Burns. It seems fair to suggest this is the most successful cricket production line anywhere.
Most systems do not work in sport. This one does, and sensationally well. Two of the men behind it are the academy director, the former Somerset cricketer Gareth Townsend, and the performance manager, Tom Benge. Townsend has been involved in coaching for 25 years, Benge has been at Surrey for 10. Talking to them you quickly realise the essence of this success is agreeably straightforward. There is no zany science. The ingredients are simple: strong finances and infrastructure; passionate coaches immersed in the process; freedom to run the system without interference; and a flow of talented human clay from a powerful club and private school system.
"It has helped with Popey and Sam in the last year," Townsend says. "When guys start making their international debuts, I think that's when you know you're on the right track. When we first started I thought success was getting kids through the system to a professional contract. These days I think it's a success when that lad has a long-term career, whether it's at Surrey or not. Guys getting to England level and being mainstays of the first team, those are big successes and that's what we want to achieve.
"We don't create the player like a car manufacturer putting the parts together. They have to work it out for themselves, and we have to provide them with opportunity to succeed or fail. When it works it is immensely rewarding to see them fulfil their ambitions. To go and watch Pope at Lord's playing for England. He's 20 years old. Two years ago he was with us. It's amazing for those guys to be where they are now, one of the best 11 cricketers in England."
That honour is also set to fall to Burns, the captain of the champions, leading runscorer in division one, and a player who a couple of weeks before the title win was being used by Benge as a case study to inspire a group of 12-year-olds during a trial session down in Normandy, deepest Surrey.
"Coming up through the age groups Burns was an off-spinner, then he became a wicketkeeper" Benge says. "In the under-16s he batted at eight, didn't get any runs, and it wasn't until he was 18 he really became a runscorer. He went to university, he wasn't contracted, but he churned out so many runs you couldn't not pick him. He wasn't the best young player in the team but he had this will and drive that has just taken him on from there."
If the emergence of Burns is a little left field – and Benge is still protective about the noticeable squat in his batting stance ("it's prior to the ball being released. What he does after that is pretty orthodox") – then Pope seems to have emerged ready made. His career is a case study in talent management; from Surrey under-nines to Test match player in 12 frictionless years. Not that it was always obvious this would be the case. "He made some small contributions here and there coming up but he was mainly in because of his wicketkeeping and his potential," Benge says. "At 13 or 14 he was a little wicketkeeper, very skilled, but without the physical power. He didn't make his first fifty until his was 15. A lot of batters can be overlooked for that reason. "
Townsend remembers in particular an innings in in the semi-final of the under-17's one-day final at Reeds School against Hampshire. "Popey went in with 13 overs to go and got 120 in 45 balls. His second 50 came in 13 balls. Alec [Stewart] had come to watch, he didn't know much about Popey and we sat there watching him destroy a good Hampshire side. The balls weren't just popping over the boundary; they were disappearing."
It is Pope's ability to defend and bat for long periods that Townsend is most enthused by. Going against trends, Surrey have made a conscious move to make defensive technique a priority in the development stages, believing that the other side, the ball-striking aspect of modern cricket, will happen in any case.
"We've gone back to what you might call 'teaching the fundamentals', presenting the full face of the bat, playing straight," Townsend says. "It's a conversation I've had with [the ECB's lead batting coach] Graham Thorpe and he has concerns about the ability of young players to defend the ball. Look at the Test team now. We don't have a one to three and we don't know where they're coming from."
Also on the way out: bowling machines, which just produce "bowling-machine players". And do not event mention Merlin the spin robot. There is also talk of being wary of extreme physicality in young players, of the merits of the technician ahead of the power-player run-machine, of the difficulty of turning an athlete into a cricketer, as opposed to the other way round.
"Cricket is such a skills-based game I don't think it's that easy," Benge says. "If there is one exception to this, it's Nat Sciver, a phenomenal athlete when she got into our programme in her mid-teens, who has gone on to learn the more technical side of the game in the international arena and is now a phenomenal cricketer. An exceptional cricketer has emerged from an exceptional athlete but that is generally an exception to the rule."
For now it seems clear this process still has plenty of distance left to run. If there is something more traditionally Surrey missing from the current blend – have you noticed? – it's not an ingredient Townsend will mourn. "The Surrey strut?" he says. "I hate it. I got rid of it at our level. I'm not interested. I don't want us to be perceived as arrogant or laddish. People say it's about self-belief and self-confidence but we're not having all that. Behaving well, being humble, that's a really big part of it."