Slowly time slips away, and so do the men who led Spain to become the best team in the world. There was a familiar, if largely forgotten, face at Las Rozas this week, when Raúl Albiol unexpectedly returned to the national squad after a three-year absence, and his inclusion doubled the number of players present who have won each of Euro 2008, the 2010 World Cup and Euro 2012. Only he and Sergio Ramos are left. This is a different Spain who will play at Wembley on Saturday.
The Football Association used a picture of Gerard Piqué to promote the Nations League game but Piqué has gone and that era drifts further into the distance. Spain won three tournaments in a row; they have now gone three in a row without winning a knockout game.
After Russia, Andrés Iniesta and David Silva departed, along with Piqué. Ramos and Albiol aside, of the squad only Sergio Busquets was in the 2010 team. Dani Ceballos, Marco Asensio and Rodri Hernández were 14 when Spain won the World Cup. "I watched it thinking: 'I hope that's me one day,'" Hernández says.
The question now is whether it can be. He was born the day Spain were knocked out of Euro 96 on penalties by England. Sitting on the bench that afternoon was Luis Enrique, who makes his debut as the Spain manager at the same place on Saturday night, if not exactly the same stadium. Asked what Spain's "reality" is, whether they are as bad as the World Cup suggested, Luis Enrique replied with their ranking: ninth. The aim, he said, is to climb one place at a time. Greater ambitions are on hold.
Luis Enrique believes it is better not to look back. The World Cup began with Spain sacking Julen Lopetegui, two days before it started, and ended with a debate about their very identity. Success was supposed to have brought a style that was non-negotiable but three tournaments of failure ended that. There was even talk of tearing it all up.
"It's not revolution it's evolution," Luis Enrique says. But it is change and that is why he is here; he has explicitly drawn the parallel to what he did at Barcelona, adding new elements to an identity: faster, more aggressive, a little more direct.
If Jordi Alba's exclusion appears to be a hangover from their falling-out at the Camp Nou, he is far from the only change. Almost half the World Cup squad have gone. Luis Enrique spoke to Piqué to try to dissuade him from walking away but Pepe Reina, Nacho Monreal, Álvaro Odriozola, Lucas Vázquez and Koke were left out. So was Iago Aspas, although he was recalled when Diego Costa withdrew.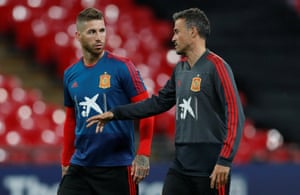 At 22, Hernández is one of 11 new caps, symbolic of the shift. A hybrid, even: likened to Sergio Busquets, he spent five years at Villarreal, first in the B team then in the first team, where a priority is placed on touch, technique and possession. Yet he has just joined Atlético Madrid – the club that released him at 16 and supposedly sit at the opposite end of the stylistic scale.
The story goes they released him because he was too small. He is 6ft 3in now. "It's true I was a late developer and when I left I hadn't grown up as much as some of my teammates; I shot up a bit later," he says. "But it was not really that sort of decision, more just a change. Yet I know that nowadays the physical part of football is very important and thankfully I have the physique now.
"In 2008 I was watching Marcos Senna and Xavi Hernández, Andrés Iniesta and Santi Cazorla: they were the ones that imposed that winning style on the team, a style which evolved and Spain won the World Cup and another Euro. I was just starting at Atlético and I watched Busquets especially closely. He, and others, lay down a model of playing I knew I had to follow and it's great to share a dressing room with them now, to learn."
Hernández adds: "The past, everything that has happened – both the good things and the bad – shouldn't affect us." But it is there, however much they seek to escape it, and it can weigh heavily. Slowly, though, there is a realisation that Spain are not automatic candidates, not favourites. They are not that Spain any more. There is talent – a lot of it – but most think the route back must be different.
In the shift, Hernández sees some parallels with England. "What they're doing is a bit like what is happening here: there's a commitment to young players, they want to carry out a transition, adapt," he says. "These days, it's not enough to play well: you have to defend well, have to have a physical presence. More work is being done on physical preparation than before and the standout factor – sometimes, not always – is physical. The younger players in the squad are happy to be here, that the coach believes in us and that he wants us to be part of this evolution.
"Everyone starts from zero now; we have to believe we are the best but we know you have to prove that. England is a good test to find out where Spain are right now."