87th over: England 254-8 (Rashid 6, Broad 2) Do I still put in bold that England have raised their 250? Creature of habit: of course I do. It came in a crazy old over that brought a couple of boundaries after the wicket that wasn't, one off Rashid's thigh pad then another from the middle of his bat to the cover point rope. Shot. He tries to hook Bumrah's bouncer, unsuccessfully. Broad's turn.
NO BALL! Bumrah has Rashid caught at third slip by Kohli but it is retrospectively overturned by the third umpire after about 72 replays, assessing that he had no portion of his boot behind the crease. "Could that be the moment that turns the game" lols Michael Vaughan on TMS.
86th over: England 242-8 (Rashid 0, Broad 1) Broad keeps the strike from the final ball of the over – the only he had to negotiate – which might not be a great move as it means he'll be facing Bumrah next up. G'luck with that, Stu.
Happier times for local fans a little while ago.
Leading edge, caught at second slip! The second new ball has hooped enough to unseat the settled man, falling after 187 balls at the crease. He is pouched by Rahul, who has had a wonderful game in the cordon. By my count, that's his sixth snaffle – three in each innings. The end of a fine hand from Stokes. 273 minutes he was out there for, hitting only six boundaries.
85th over: England 241-7 (Stokes 62, Rashid 0) Bumrah has, across his 21 overs today, reinforced that he's the next big thing in fast bowling. I was lucky enough to see his ODI in Sydney a couple of years ago where he immediately looked the part. Deserves a fifth wicket before he's done. Rashid manages to get out of the way of a bouncer to finish, albeit not as potent as the one that got Woakes, which came back a metre or more off the seam.
What a bumper! Bumrah bangs in the second new ball and it follows Woakes, who tries his best to sway but his gloves are in the way of his face. Can't do much about that. India three wickets from victory. Bumrah, what a star!
84th over: England 240-6 (Stokes 61, Woakes 4) It is how these things go, aren't they? Such a wonderful stand but England were only ever a wicket away from subsequent carnage. Bumrah, who has been brilliant throughout, was always the man most likely. Now Pandya v Stokes from the other end, who tickles a four from a misdirected delivery then keeps the strike to cover. Can he get himself to three figures well? Woakes the right kind of cat to ride shotgun.
83rd over: England 235-6 (Stokes 56, Woakes 4) Chris Woakes to face the hat-trick ball…four slips, short mid-wicket, short leg, shortish mid-off…and Woakes hits it for four! An attempted yorker, aimed at leg stump, and he clips what eventually turns out to be a low full-toss between the two fielders.
And with that, I will hand over to Adam Collins to take you home. Emails here, tweets to @CollinsAdam.
One brings two! Bairstow comes out with some extra padding on that banjaxed finger, but he doesn't need it. He plays inside the line of a nice delivery from Bumrah, and it hits the top of off.
Woosh. Clipping – clipping – the bails. What a knock though. What a knock.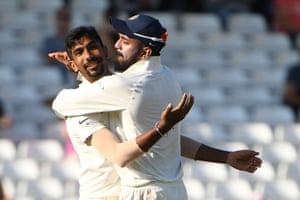 Review!
Buttler shoulders arms to Bumrah, and it strikes his pads. He reviews because he has to…it might be a bit high…
82nd over: England 230-4 (Stokes 55, Buttler 106) Erm, OK: Pandya gets the new ball. Wouldn't have been my choice. Stokes flicks to the vacant square leg, and has to seriously hurry back for the second run, making it in with a dive. He does appear to have made a mess of his gloves by flinging himself forwards there, so fresh ones are required. A single, then one zips through at Buttler, flicking the pads and going fine for a boundary full o' leg-byes.
Incidentally, this over has taken this partnership (168) past England's entire first innings (161).
81st over: England 223-4 (Stokes 52, Buttler 106) And the new ball is taken, entrusted to Jassy Bumrah, as nobody calls him. Some hop straight away, as Buttler has to quickly get his hands out the road of a quick one angling in at his body. Then, a very rare loose shot, Buttler playing uppishly off the back foot, and it drops just short of mid-off: that would have been an entirely hideous way to go.
"And lets hear for the selectors!" hoorays Dean Kinsella. "In earlier times neither of these two would be playing – for varying reasons."
80th over: England 223-4 (Stokes 52, Buttler 106) Buttler leaves all of a Pandya over alone, until the last ball which he pushes to deep point for a single. They take drinks, and presumably Virat will also use that time to contemplate whether to take the fresh cherry. Surely, surely, surely he will.
79th over: England 222-4 (Stokes 52, Buttler 105) Ashwin tries to tempt Buttler with a wide one, but he hasn't reached this stage by taking that sort of bait.
"It seems generally agreed that YJB would bat better without keeping," says Robin Hazlehurst, "so he should give the gloves to Buttler, but if Jos can bat like this then why burden him with the gloves? Maybe neither should be keeping? And does it make any difference that YJB's absence means Buttler has come in a place earlier? Maybe another idea to run with?"
78th over: England 221-4 (Stokes 52, Buttler 104) Pandya into the attack, which presumably means he won't be getting the new ball, due in a few overs. Just a single from the over.
Darrien Bold writes in: "I might have imagined this but I have some memory of Graham Thorpe coming on to bowl with his cap back to front at the fag end of a Test some time in the 1990s. A basic google search draws a blank. Can anyone confirm this?"
These are the occasions on which Thorpe bowled in Tests, if it's of any help…
77th over: England 220-4 (Stokes 52, Buttler 103) After all that excitement, Stokes plays out a quiet maiden from Ashwin. Worth noting that Stokes has taken a Boycottian 163 balls for his 52. A rare occasion of anything to do with Geoffrey being welcome…
76th over: England 220-4 (Stokes 52, Buttler 103) Buttler pushes the last ball of the over to cover. Stokes punches his mate on the arm in jocular fashion. The replays of the England balcony celebrating that century are enough to make even the coldest heart fuzzy.
Buttler plays another shot that you really wouldn't associate with him: a careful flick wide of fine leg and to the boundary. This partnership is a fairly strong argument against the idea that batsmen can only play in a certain way. India try some short stuff, but Shami's ball isn't short enough and Buttler pulls him between fine leg and the newly-installed deep backward square. And then – a century! Buttler's first in Tests! Another boundary, again clipped off his legs, again to that fine leg area. What an innings. WHAT an innings.
75th over: England 208-4 (Stokes 52, Buttler 91) Stokes goes for a big sweep, but didn't quite pick the length properly: a bit too short for the shot, and in the end he did well to keep it down. Good over from Ashwin ends in one of the variations that goes in at the left-hander, and an inside edge is all that prevents it from sneaking through.
Mike Daniels here: "Can't quite say I was around for the 1939 Test but I did play with a guy who saw Bill Edrich in the 40s and his most vivid recollection of him was how "bouncy" he was running up to bowl. Like a rubber ball, he'd say."
More esoteric observations/memories v welcome.
74th over: England 208-4 (Stokes 52, Buttler 91) Shami is on for a bowl, and is greeted by some beeeeeyooootiful timing, Buttler flicking one off his knees to the deep mid-wicket fence.
"Following the Ian Healy impression of Merv Hughes," writes Brian Withington. "I am reminded of Graham Gooch's impressive repertoire that was unveiled at the fag end of an Eighties bore draw (I think at Headingley). Highlights included a superb Bob Willis all pumping legs and flailing arms, as well as an uncannily accurate Chris Old simulacrum that started with a purposeful approach but culminated in him pulling out of the delivery stride clutching his ribs. Team mates were clearly highly amused as Old apparently had quite a reputation for being on the fragile end of the Yorkshire seam bowling spectrum."
If there's any footage of this knocking around on The Internet, please send it in: I've spent years searching on YouTube, without luck.
73rd over: England 202-4 (Stokes 51, Buttler 87) Woof! The closest India have come to breaking through in a while: Ashwin rips an off-spinner that turns square, hits Buttler's front pad and misses the bails by inches. No, centimetres. No, millimetres. Sorry for mixing up imperial and metric there. It was close.
72nd over: England 201-4 (Stokes 51, Buttler 86) Sharma flings a testicle-threatening full-toss at Stokes, but he whips it away from his pods and gets a couple of runs to bring up his fifty, even though he fell over at the start of it. If you were worried about possible subsequent aggro, fear not: Stokes and Sharma fist-bumped midway through the first run.
Guy, you pessimist…
71st over: England 199-4 (Stokes 49, Buttler 86) Delectable drive by Buttler off Ashwin, through the covers and to the boundary, which makes this his highest ever Test score.
70th over: England 195-4 (Stokes 49, Buttler 82) What's been particularly impressive about this partnership is, it's not like this is a complete road. The swing hasn't been as extravagant as before but it's still moving, plus there's been some iffy bounce and Ashwin has ripped a few. Stokes blocks a maiden.
FAO old people with excellent memories: "It's clearly that time when we're starting to dream the impossible dream," writes David Brown. "While your correspondent just now can remember where he was for Astle's 222, I wonder if any OBOer has a similar recollection as Bill Edrich hit 219 in England's 654/5 as they ran out of time to win the Durban 'Timeless' Test of 1939? Seems like a long shot either way."
69th over: England 195-4 (Stokes 49, Buttler 82) Here's Rav Ashwin for another bowl. Let's see if he looks a little less stiff here…he doesn't really, but Stokes smothers most of the over, pushing a single from the last ball.
68th over: England 194-4 (Stokes 48, Buttler 82) Stokes pushes one through the covers: that's more or less been his MO in this innings, but he doesn't quite time it properly and thus 'only' gets three runs.
"I'm a big fan of bizarre run-ups and delivery styles," writes Tom German. "The most obvious example of this is Paul Adams but there seemed to be subtler examples in the 90's like Murali and Lasith Malinga.
"Thus I am finding Jasprit Bumrah's current test Cricket run excellent before we even get to his wonderful name.
There is something distinctly giraffe – like about how he delivers but also he looks like when a child has a fight and sort of windmills as a punching technique. But then again what do I know I always think Adil Rashid looks like he is being dragged along by a dog. Certain bowlers also sort of look like the ball is a hot coal and they are trying to get rid of it."
Always liked Chris Jordan's, mainly because it's fairly long but appears to produce absolutely no momentum by the time he reaches the crease. Not really the same thing, but Ian Healy does Merv Hughes is v enjoyable.
67th over: England 191-4 (Stokes 45, Buttler 82) Stokes tucks two to mid-wicket, then thuds a bouncing drive straight for a single.
"So if these two are still in at close of play then we can start to hope, right?" says the adorable David Murray. "Bairstow to hit the winning runs one-handed!"
66th over: England 188-4 (Stokes 42, Buttler 82) Sharma beats Buttler's outside edge, then nearly gets through him with a reversing yorker. But then, he gets an inswinger wrong and Buttler flicks it fine for a boundary. And then four more, this time a thick edge, which if you were being super charitable/are Jos Buttler's mum, you could say he guided low past the slips. But really, it was a thick edge.
"It's been 16 years, 5 months and 4 days…" begins Sinead O'Conn…sorry, Edmund King, "…since Nathan Astle established the benchmark for outrageous batting in hopeless cause, chasing 550 to win against England at Jade Stadium in Christchurch. The stats are pretty well known: 222 off 168 balls; 28 fours and 11 sixes; still by some distance the fastest double century ever recorded.
"What's less remarked upon is that many New Zealand cricket followers will remember where they were that day and how the awareness of what Astle was doing slowly dawned on them. I'll always be grateful that I got to watch most of that innings in Coromandel with my now-late grandfather, a long-time senior club cricketer whose delight and growing sense of awe at the thing will always stay with me. Anyway, in recognition of what Stokes and/or Buttler are probably not just about to unleash in this match, here are the highlights…
65th over: England 180-4 (Stokes 42, Buttler 74) Uneventful stuff, as the ball doesn't leave the square, Shami sending six across Stokes.
64th over: England 180-4 (Stokes 42, Buttler 74) Here's Ishy Sharma for a bowl, and Buttler slaps a loosener square to the boundary. The rest of the over is dealt with fairly easily.
"If England," unwisely begins Boris Starling, "do manage to win from here, I daresay Virat Kohli will be feeling rather like Andrea Pirlo after Liverpool beat Milan in the 2005 Champions League final…
The feeling will cling to my feet forever, trying to pull me down. There are always lessons to be found in the darkest moments. It's a moral obligation to dig deep and find that little glimmer of hope or pearl of wisdom. You might hit upon an elegant phrase that stays with you and makes the journey that little bit less bitter. I've tried with Istanbul and haven't managed to get beyond these words: for fuck's sake.
63rd over: England 176-4 (Stokes 42, Buttler 70) It's Bumrah with the ball, and he aims at the base of Buttler's leg stump with a good attempted yorker, but the batsman flicks it down square-leg way for three. Stokes plays at a couple of quite wide deliveries, which is enough to make the heart jump, but no harm, no foul.
We're out again. The sun is shining, but the ball is reversing. Will England keep at this? Remember, correspondence to [email protected], or @NickMiller79.
"With reference to John Cox's comment about the need for the batsmen to move along the run rate," writes Robert Darby, "someone must have told Stokes and Buttler. It has now hit 2.75 runs per over against a required rate of 2.74. The Indians must now be getting worried. When will they start playing for time?"
Terrific afternoon session for England. There have been a couple of half-alarms, but these two have batted entirely sensibly, careful with most deliveries but maintaining enough of a positive attitude that they don't get entirely bogged down. Buttler in particular has been top notch, and while this will probably ultimately all be pointless, it is at least an indication that England can bat like non-buffoons.
62nd over: England 173-4 (Stokes 42, Buttler 67) Lovely, tailing in yorker from Shami to Buttler, which he digs out rather well. Kohli then gives Jos a few words, to which he responds by driving a wide, low full-toss through the covers and to the boundary. We know how the Test is going to end, but this is good cricket.
In this series? No. In life generally, for the rest of their days? Also no.
61st over: England 168-4 (Stokes 42, Buttler 62) Full toss from Ashwin, and Buttler gives it the necessary, through the covers. He is very good in general, but looking very good here.
60th over: England 163-4 (Stokes 42, Buttler 57) There's that reverse: Shami tails one in at Buttler's toes, but he does well to flick the delivery off them tootsies for a single. Shami comes round the wicket to Stokes, missing the outside edge by a hair.
59th over: England 162-4 (Stokes 42, Buttler 56) Stokes misses out on a wide, over-pitched ball, picking out the fielder. There's a strangled lbw shout, but otherwise a fairly quiet Ashwin over.
58th over: England 162-4 (Stokes 42, Buttler 56) Shami gets a bowl now, but still only two slips. With still north of 350 runs for England to get, what use is, for example mid-on in this game? Stokes plays an uppish drive through the covers without much timing, but they do get three runs which brings up the 100 partnership. It's reversing out there, so that's another bit of fun for England to deal with.
Not out!
That might have hit a fourth stump, but only just. Wicketkeeper Pant told his senior colleagues where it was going, but they paid him no heed.
Review!
Shami to Buttler, bit of inswing, pad, looked very leg side live but India are convinced. Upstairs we go…
57th over: England 158-4 (Stokes 39, Buttler 55) Some pundits do bang on about slips, to the point that if you listened to them every team would have nine in the cordon. But, they've got a point this time: all four wickets in this innings and eight in England's first were caught behind or in the slips. Anyway, maiden by Ashwin.
56th over: England 158-4 (Stokes 39, Buttler 55) Bumrah floats up a ball that couldn't have asked to be hit more if it had suddenly become sentient and said "Hit me." Buttler does the honours, and brings up his half-century with a boundary through the covers. Then four more, from a slightly less controlled shot, edged through third slip, which – ho! – had just been taken out by Kohli.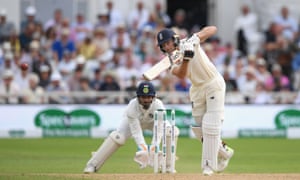 55th over: England 150-4 (Stokes 39, Buttler 47) The lbw shout aside, both batsmen play out the over reasonably well, taking a single apiece to bring up the 150.
Meanwhile, in non-cricket news, here's a headline for you: 'Libertines frontman Pete Doherty wolfs down Cliftonville breakfast challenge only a handful of people have conquered.'
Not out!
Umpire's call! But only just. I'd guess 48% of the ball was hitting leg stump, according to Hawkeye.