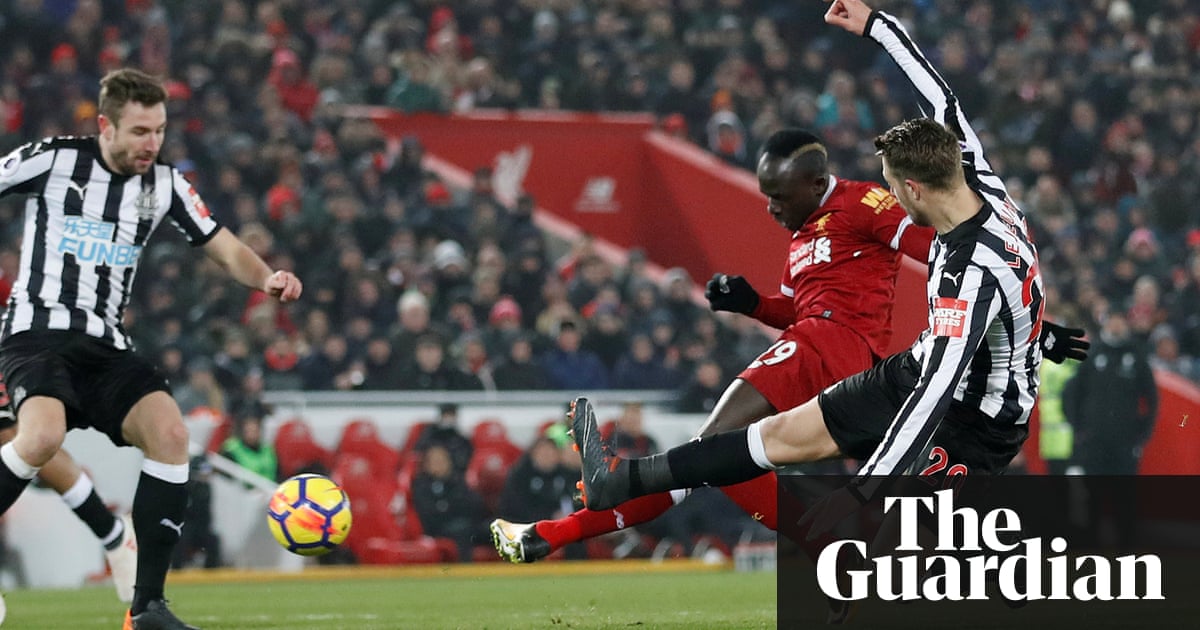 Liverpool were not at their sparking best on a bitterly cold and slightly foggy evening on Merseyside, though partly thanks to Mohamed Salah keeping up his scoring run they were too lively for Newcastle and are now up to second in the table. Their supporters probably do not expect them to stay there for very long but the significance of this result, apart from bringing up 200 Premier League goals under Jürgen Klopp, is that should Chelsea lose to Manchester City on Sunday there will be a seven-point cushion between Liverpool and the dreaded fifth place. Unless Chelsea win, in fact, the fight for top-four places could be as good as over.
Early interest was provided by the question of how quickly Salah could get onto the scoresheet. The Egypt international had scored in each of his last six Liverpool games before Saturday, and one more here took him to 32 in all competitions this season, exactly the same as the entire Newcastle team have managed thus far.
Chances were unlikely to be abundant with Newcastle falling back into a flat back five when they were without the ball, which was most of the time, but Salah got his first sight of goal after 11 minutes and managed to catch Paul Dummett in the face with his shot. A couple of minutes later Emre Can hoisted a ball forward from halfway that allowed Salah to easily run through Newcastle's square defence, only to put his first-time half-volley into the side-netting.
Newcastle were content to do more defending than attacking, though there was one moment midway through the first half when DeAndre Yedlin was able to show off his startling pace, kicking the ball past Andrew Robertson and beating the Liverpool left-back to it even after taking the long way round.
After Dejan Lovren brought a save from Martin Dubravka with a header from a corner there was another chance for Salah when Can dispossessed Yedlin. Roberto Firmino found Salah in the area, but in attempting to guide the ball around Kenedy he gave Florian Lejeune the opportunity to intercept.
The visitors had a lucky escape when Dubravka came for a Salah corner and missed, the ball travelling harmlessly across goal and out of play for a goal-kick, before a measured pass from Virgil van Dijk almost played Roberston into the area from half way, the full-back just failing to control the ball with a headed touch.
It was clear that Liverpool would not be kept at bay for long, and the breakthrough finally arrived five minutes from the interval. Naturally it was Salah who applied the finishing touch, though Alex Oxlade-Chamberlain deserves credit for seizing on a loose ball following a Newcastle mistake in the centre-circle and powering instinctively towards goal. At first he looked to be shaping for a shot, but as Mo Diamé closed in the Liverpool midfielder released the ball to the fractionally better placed Salah, whose low left-foot shot went through the goalkeeper's legs.
Going behind ought to have forced Newcastle to play with a little more adventure, though at times this season Rafa Benítez's priority has been to keep the margin of defeat to a minimum with an eye on the eventual goal difference. Things could be that tight at the end of the season, though in fairness Newcastle almost managed an instant reply on the stroke of the interval. Diamé was on target with a shot from the edge of the area after beating Can to the ball, and Newcastle would have been level but for Loris Karius leaping to his right to make a last-gasp one handed save.
The second half began in the same way as the first, with Newcastle keeping everyone except Dwight Gayle behind the ball and denying Liverpool space to run into. Allowing them to dominate possession when they boast forwards as tricky as Salah, Firmino and Sadio Mané is a risky strategy, however, and the home side had already been denied a fair claim for a penalty when Mané extended their lead in the 55th minute. Salah's shot clearly hit Jamaal Lascelles on the arm as the centre-half tried to fling himself in the way, though as he was in the process of turning his back and not looking at the ball it was probably reasonable of Graham Scott to allow him the benefit of the doubt.
Newcastle respite was brief. Mané started the move which led to the second goal, then moved into the area to finish it following a neat final ball from Firmino. Newcastle were expecting the ball to be moved out wide, though in typically Brazilian fashion Firmino went for the more difficult option, the pass to feet through the middle, and Benítez's defenders had no answer to such eye-of-the-needle precision.
Neither was there any attempt to throw caution to the wind and fight back. One misplaced Isaac Hayden header was the sum of Newcastle's attacking efforts in the second half. Salah might have won a penalty right at the end, though Lascelles' foul was actually outside the box and the referee appeared to be unsighted. In three returns to Anfield Benítez has never before finished on the losing side; this time he surrendered quietly.
Lascelles should have received red card, says Klopp
Jürgen Klopp described Jamaal Lascelles as "a lucky man" after his stoppage-time foul on Mohamed Salah went unpunished.
The Liverpool manager initially thought his player deserved a penalty and was fuming on the touchline, though replays suggested the challenge had occurred outside the area. Yet Lascelles was clearly the last defender and Salah in a position to score so Klopp was confused as to why Graham Scott failed to take any action.
"I can see now it wasn't a penalty but it was 100% a red card," Klopp said. "The Newcastle defender is a lucky man to be able to play the next game."
Rafa Benítez rather diplomatically suggested the referee might not have had a clear view, though privately he must have taken a dim view of Lascelles' action when the game was all but over and Newcastle cannot afford to have their captain and best defender suspended.
"I didn't get a good view of the incident and maybe the referee was the same," the Newcastle manager said. "Overall I was happy with the team's workrate but I can't be happy with the result. A gameplan has to be good for 90 minutes, not just 40. You can never guarantee you will not make mistakes, and against top sides you will pay for that."
The managers agreed a save by Loris Karius from Mo Diamé at the end of the first half was a key point in the game. "That would have been a perfect moment for Newcastle to score and a bad time for us to concede," Klopp said. "Loris is an outstanding goalkeeper who happened not to make a good start to his Liverpool career. I believe in him, though, the save was almost as good as scoring a goal. I would be the biggest idiot in the world to keep lining him up if he wasn't good enough."