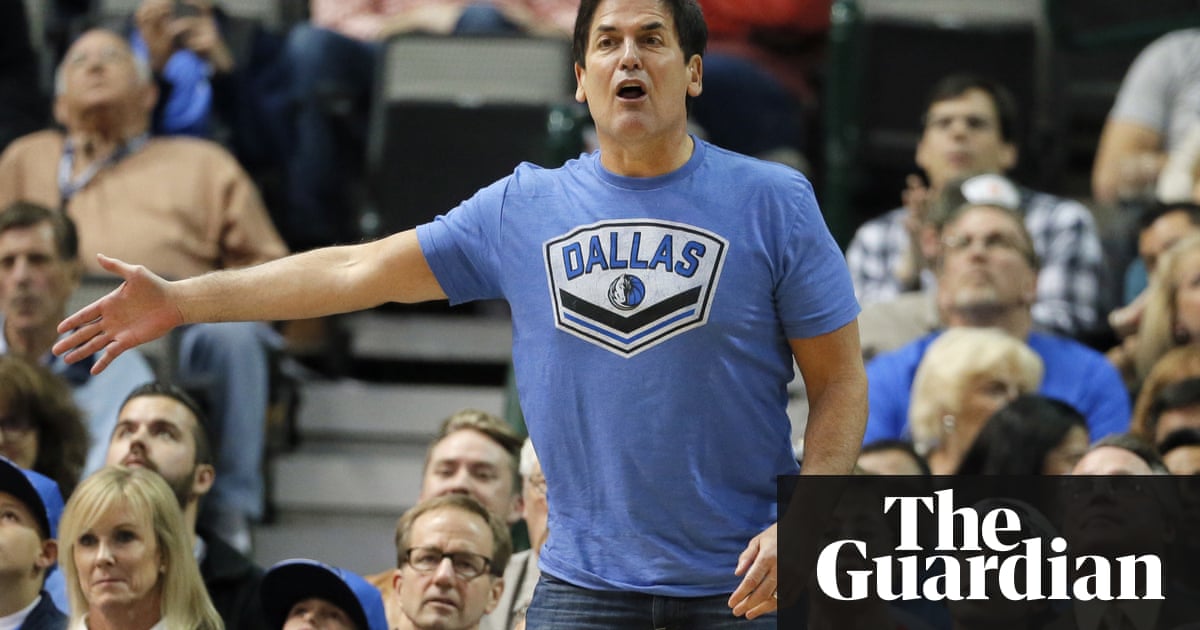 This was how Mark Cuban fared last week: fined a colossal sum for being too honest, the day after a report of grotesque behaviour at his basketball team drew questions about his potential role in what amounts to a long-running sexual harassment cover-up.
He's either complicit or incompetent: two very off-brand prospects for a man who has burnished a reputation as an entrepreneur-savant and an American dream embodiment, bartender to self-made billionaire. Of course, he wrote a self-help book. It was called How to Win at the Sport of Business – If I Can Do It, You Can Do It.
Cuban bought the Dallas Mavericks for $285m in 2000, aged 42, and they won the NBA title in 2011. He's also nationally known as one of the sharp-fanged investors on the reality TV show, Shark Tank. Opinionated, accessible, unstuffy: that's Cuban, Look, he's sitting with fans in the arena! (But flies to games on his private jet.) Ultra-wealthy populist is a neat gig: it reaps public trust and admiration without the baggage usually attached to the motives and characters of the super-rich – because, really, who gets to the top without treading on people?
He's an Elon Musk for the middle of the country – two media-darling tech billionaires, one building electric cars and space rockets in California, the other forging a sports and entertainment empire from Texas. Both informal and irreverent; disruptors, in the language of Silicon Valley.
Cuban's disruption often takes the form of verbal grenades lobbed at referees in the NBA, whose reputation as one of America's more progressive sporting bodies – boosted by the decisive 2014 ousting of former Los Angeles Clippers owner Donald Sterling for racist remarks – has taken a hit in the past week.
He has been fined more by the league for shooting his mouth off than the vast majority of Americans will earn in a lifetime. On Wednesday he was walloped to the tune of $600,000 by the NBA for comments on a podcast about deliberately losing in order to secure higher draft picks.
The previous night, Sports Illustrated published a story alleging the Mavericks have fostered "a corporate culture rife with misogyny and predatory sexual behavior: alleged public fondling by the team president; outright domestic assault by a high-profile member of staff; unsupportive or even intimidating responses from superiors who heard complaints of inappropriate behavior from their employees; even an employee who openly watched pornography at his desk."
The article includes claims of sexual harassment against the former team president and CEO, Terdema Ussery (who has denied them). He became CEO in 1997 and left in 2015 having overseen strong growth in the team's revenue. The report prompted the firing of a club website beat writer and the team's human resources director.
Cuban has not been accused of sexual harassment and has commissioned an independent investigation and expressed surprise and horror at the revelations. But no conceivable interpretation paints him in a positive light. It is a key duty of any boss to set the culture and tone of the workplace. And either he turned a blind eye to the misconduct, was aware on some level but did not take it seriously enough, or was genuinely clueless.
Since Cuban is known as engaged, passionate and detail-oriented, the latter is hard to credit. As he wrote to then-presidential candidate Donald Trump in 2016: "I get that a big part of your base doesn't care about issue details, but to be President, to be this close, you have to dig in and know your shit."
A Mavericks staff member was deemed such a risk to women that he signed a contract agreeing not to be alone with female co-workers and was kept on even after being arrested on team property on suspicion of assault.
Cuban's reasoning for this, as told to ESPN, is bizarre, a warped paternalism: "I didn't want to just fire him, because then he would go out there and get hired again and do it somewhere else". More broadly, Cuban told SI he was so involved with the fun basketball side of things – and no players have been implicated in the allegations of wrongdoing – that he neglected the boring front-office stuff. That's at least consistent with a line from a 2016 entry on his blog: "I truly don't know what is on my tax returns … Do I read any of them? Not a one."
That was a screed on why presidential candidates should not be asked to make their tax returns public, headlined What Do You Have to Hide? – The Most Dangerous Question in America. Cuban writes: "I have absolutely nothing to hide, and if I ever run for President you will have to take my word for it."
In other words: I'm so honest that I don't need to be transparent, and you'll have to trust me on that. But there has been more than enough grim evidence lately in culture, politics and sport to demonstrate that promises of probity from powerful men should not be blindly taken at face value.