LOS ANGELES — Chris Matthews has apologized after footage surfaced of the "Hardball" host mocking Hillary Clinton while setting up for an interview with the then-presidential candidate and making a joke about obtaining a "Bill Cosby pill."
Matthews interviewed Clinton in an Iowa fire station during the Democratic primary season in 2016. New York Magazine's The Cut obtained video from right before that interview, with the MSNBC host waiting for Clinton to arrive, where he says, "Can I have some of the queen's waters? Precious waters?"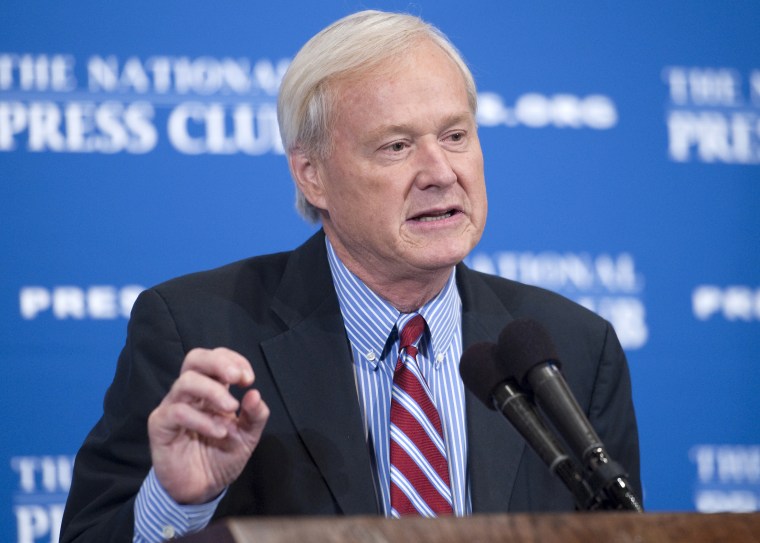 Seconds later, he asked, "Where's that Bill Cosby pill I brought with me?" Matthews continued to laugh at his jokes while his crew scoffed, clearly uncomfortable.
He apologized in a statement to The Cut, saying, "This was a terrible comment I made in poor taste during the height of the Bill Cosby headlines. I realize that's no excuse. I deeply regret it and I'm sorry."
MSNBC referred NBC News to Matthew's statement in the New York Magazine article and said there was no further comment.
More than 60 women have accused Cosby of abuse, with allegations that he drugged and assaulted them. In June, one of his accusers, Andrea Constand, took him to trial over the sexual assault accusations, but the case ended in a mistrial after the jury deadlocked.
Related: MSNBC's Chris Matthews was reprimanded over comments about woman in 1999
This is not the first time Matthews has mocked Clinton, having called her "witchy," "she-devil," and "Madame Defarge" in the past. In 2005, he questioned whether troops would take orders from her as president, and he once pinched her cheek following an interview.
In 2008, he said, "the reason she's a U.S. senator, the reason she's a candidate for president, the reason she may be a frontrunner is her husband messed around." He later apologized for that remark.