95th over: England 312-6 (Cook 151, Woakes 0) Brings up his minor milestone with a hook from Cummins, down through fine leg. It's been a brilliant performance from Cook today, after a dogged one yesterday. Deserves the applause. Takes another single, and drops the deficit to 15.
94th over: England 307-6 (Cook 146, Woakes 0) "Can we use "carry" and "bat" in the same sentence yet?" asks Mark Turner. We can, partly because his teammates have been so poor today. A wicket maiden for Lyon.
God, that is poor. Moeen's desperation against Lyon brings him undone, as it should have done from the very first ball. He has been done in, mentally. Gets an utter pie from Lyon, and still tries to murder it over cover, backing away to leg while doing it – not just a T20 slap, but a No10 T20 slap. Short cover takes it, leaping up. Chris Rogers on ABC Grandstand is scathing. "This is a guy who was asked to bat 6 at the start of this series. He got a short wide one, he could have put that anywhere he wanted, on the floor. I don't have a lot of time for that. You've got to have respect for the guy at the other end as well, who's on 146."
93rd over: England 307-5 (Cook 146, Moeen 20) Cook stabs another run through the on-side. Cummins is trying to make amends for the missed chances, but Moeen salts the abrasion by nailing a pull shot between the two men behind square for four. The debt is now 20.
92nd over: England 301-5 (Cook 145, Moeen 15) Desperation stuff! But Moeen survives. He's been worked on, worked over, and worked out by Lyon in this series, so the first ball he faces from Australia's offie, he slogs it stright down the ground. It held up in the breeze, wasn't hit truly, and Cummins should have caught it easily on the large expanses of the MCG. But Cummins is starting about 15 paces inside the rope down at long-off, and didn't backtrack far enough. In the end he tried to take the catch a couple of metres inside the rope, and the ball tips just over his fingers and lands on the rope itself for six. Moeen gets width next ball, and slams the drive through cover for four. Then repeats the shot for another two runs to close the over. Cook may want to keep Moeen away from the spin on offer, in terms of risk, but the reward is that England's 300 is up, and the deficit slashed to 26.
91st over: England 289-5 (Cook 145, Moeen 3) Moeen Ali to the crease. Hasn't done enough with the bat in this series (or the ball). Cook exposes him to Josh H immediately with a turned single. Moeen gets a bouncer immediately, and it deflects off his body away to fine leg for four leg byes. Flicked the helmet on the way through. Moeen gets another short one that he pulls for three through midwicket, didn't time it cleanly but there's a big gap. Cook punches a couple more runs through point.
90th over: England 279-5 (Cook 142) England still trail by 48 runs, as Lyon gets the wicket from the last ball of the over.
There's the breakthrough! Turn from Lyon, and a decent amount of bounce, but I don't know why Bairstow was so far back on his stumps. I think he saw the length and went back to cut, seeing the ball outside off stump. But it spun much more than he expected. In the end he would have been better off pulling that ball as it angled in at his gloves, even while Bairstow was backing away towards leg. He went through with the cut, got a top edge, and Paine gloved it beautifully.
89th over: England 276-4 (Cook 139, Bairstow 23) Josh Aitch is searching for something, but not finding much in this wicket, newish ball or no. Another maiden to Bairstow.
We're getting very local: Josh in Massachusetts has some help for Abby. "I read this article on Deadspin a little over a year ago and started watching cricket soon afterward. Unfortunately some of the video links are now broken, but it still reads very well."
88th over: England 276-4 (Cook 139, Bairstow 23) Bird continues, Cook walking across his stumps and glancing a single. Bird tries a bouncer to Bairstow, which at 129 clicks isn't going to bother him unduly, but perhaps they're hoping for a reckless hook with two men in the deep. Two short covers as well. Weird fields again.
On Cook as he ascends the run-scoring list:
87th over: England 270-4 (Cook 138, Bairstow 18) Young Jonny Bairstow knocks a couple of runs from Hazlewood's first ball, then defends out the rest. Not losing a wicket after the break is priority number one.
Steph: absolutely.

86th over: England 268-4 (Cook 138, Bairstow 16) Bird to Cook, and the oven is back on. Five dot balls, the drip drip drip of slowly increasing pressure. Bird tight on the off stump. But the final ball is fuller, and Cook plays a gorgeous on-drive back down the pitch for four. That wasn't ugly.
"Am I the only person thinking that everyone in the world is totally hung up on seeing Malan's bat, out in front with an obvious snick on it, as evidence that that the snick happened at that point in time?! Because it obviously DIDN'T when you see it from the front!"
I think that using the word 'obviously' undermines any point on that score, Tim Featherstone-Griffin. Of all the things you could call the Malan situation, 'obvious' was not one of them. We've seen 20 replays and still can't be sure what happened.
Nothing that people on the internet love more than offering advice and being right about things. Here's Abby Addington-May, of Massachusetts.
"Hello Geoff, I would love to follow Cricket (England) and know all about the Ashes, but for the life of me I can't figure out a single sentence in today's update. It would take me forever to try to unscramble it – not just vocabulary but oblique references. What is the best way for someone new to following the sport to get a grip? Thanks."
If anyone has any useful glossary services, pass them on. Or if anyone wants me to give Abby their email, maybe she can send questions as and when they arise.
In the meantime, if you haven't had enough of me, here's the interview that Collins and I did with the very brilliant Vic Marks for The Final Word podcast. A journey through his extensive and admirable history in the game, and more on the personal side as well. It's a lovely chat. And don't forget to subscribe to the pod so you get future episodes as they emerge.
Listen and subscribe here. Reviews also welcome.
A fairly even session, but a bit to Australia's advantage. Only 71 runs added, while prising out the key wickets of captain Root and Perth centurion Malan. Another bizarre leg-before dismissal for England, not reviewing despite an inside edge for the second time this match. DRS really is challenging our conceptions about the game. Everything really relies now on Cook to bat through, then Bairstow and Moeen to help push the run rate around him. Equally, the way England's last six wickets have gone down in this series once the fifth of an innings falls, Australia could still end up with a first-innings lead. All to play for after the break. I'll grab a snack and rejoin you in a bit.
85th over: England 264-4 (Cook 134, Bairstow 16) Hazlewood to escort us to the sandwich break. Cook isn't afraid to play the hook shot, though only gently for a single. Bairstow leaves, defends, and that is lunch.
Brian Withington emails in. "Your evocation of parental opprobrium at Joe Root's dismissal transported me back over forty years in an instant. Should you call to explain the delay? Or try to creep in unannounced? Better to wait for a lift from your economics teacher after only half a dozen pints and walk the last mile from his house to sober up and then still trip over the dog. Happy days."
84th over: England 263-4 (Cook 133, Bairstow 16) Do as I say, not as I do. The Berenstain Bairstows. Grabs a couple more runs through midwicket. Then cramped up by Jack Bird outside off, he jabs at the ball and under-edges it past his off stump to the keeper. Not another play-on, surely. Then he drives off the edge between slip and gully for four. Whooshka.
83rd over: England 257-4 (Cook 133, Bairstow 10) Yep, Jonny Bairstow is ticking away nicely. Aitch tries a couple of full balls, but Bairstow clips one through midwicket for three. Timing it nicely on this deck, as Warner did yesterday.
Here's Robert Wilson: "Your putting the Cook aggregate up there (and the company it keeps) can't help but remind me of all those punters who persistently put the boot into what a spoilt, privileged and nepotistic waste of a place Cook really is. Eleven thousand eight hundred odd runs. Do they think they were all accidental?"
I think it's a matter of style. If people like the way it looks, they'll happily bestow badges of greatness. People have loved what Cook has done, but not many have loved the process of his doing it.
82nd over: England 253-4 (Cook 132, Bairstow 7) One, two, three… Bairstow gives himself five sighters. Then blazes a drive from Bird's final ball for four. Strap in, this could be fun.
81st over: England 249-4 (Cook 132, Bairstow 3) Well, well. Lots of talking points there. Bairstow gets off the mark second ball by driving three through covers, then Cook is nailed on the pads but it's going down leg side. Eventful over…
And the new ball does the trick! Second delivery, after one that was left, Hazlewood angles one in, and it nails Malan just below the knee roll. Now, there's a big inside edge on that, but it must have been pad first? Malan spoke to Cook and then walked off. Must have known he hit it, and must believe he got there too late. Stay posted, and refresh your pages for updates…
Oh Lord. He's absolutely smashed that off the edge, but did it caress a sliver of pad first? It sort of jams between both at the same time. I'm not sure that would have been overturned, given it was out on the field. But surely you'd have a cheeky review?
80th over: England 246-3 (Cook 132, Malan 14) Lyon with two left-handers on strike is in clover. Cook doesn't want to give him another chance at an extended examination. Escapes the scrutiny by cutting another single. Lyon lands them perfectly, around the wicket, straightening, drawing those forward defensives that can result in edges to slip or into pad. Malan eventually jams a run through midwicket. Warner saves another Cook cut, and the batsmen turn back. New ball time?
79th over: England 244-3 (Cook 131, Malan 13) Another maiden, this time it's Marsh to Malan. Dawid happy to play the long game after his brief flurry. Here's what lies ahead for Alastair Cook. Could even get Lara today if he goes really big.
78th over: England 244-3 (Cook 131, Malan 13) Lyon to Cook. It's a teasing over. A leading edge, a miss down the leg side as Paine whips off the bails. Lyon really settling into his lengths now. A maiden, as this excellent duel continues. Cook using the full stride as often as he can.
"For all the talk of England's revival on the back of renewed application with the bat, it seems to me an investigation is warranted into the background of catering staff at the MCG," posits John Phaceas. "I suspect an England fifth columnist (cue traditional jokes about Pommie aversion to soap) salted the Australians' sandwich tray, nobbling Cummins yesterday, and apparently Smith today."
77th over: England 244-3 (Cook 131, Malan 13) Oh, that's nice. Mitch Marsh bowls too full, and Cook isn't going to turn that down. Lovely straight drive for four. He's looked in far more control this morning. He's realised that he's back, and now he's feeling it.
76th over: England 239-3 (Cook 126, Malan 13) Lyon has Cook where he wants him for a couple of balls, then drops short and gives up a couple of runs on the cut shot. He gets Cook out on the cut sometimes as well, but that needs some decent bounce in the wicket. There's a shout from short leg as the next ball pops up, but not sure there was an edge on that.
A nice note from Gareth Davies. "I always take a news and sport holiday over Christmas and usually make it last four or five days. If anything really serious happened, like a second referendum being called on Brexit, I would probably pick it up from a family member or friend, who has deduced I am mildly interested in the subject. However every four years I break this seasonal radio silence by "tuning in" to the Guardian OBO coverage, carefully ignoring the rest of the content the old profligate so misguidedly gives the world for nothing. And because I'm always up late at Xmas it's quite easy to catch the first hour or so. There's nothing to match it, this slightly illicit sport following after midnight. All I can think of is the British Lions when they still played at 3pm local time, in NZ in, I think, 1971 and 1970s. If it hadn't been for the rare sense of promise today, I don't think I would have bothered to set all this down. I do hope Cook and Root are still in now I've finished."
One out of two isn't so bad.
75th over: England 236-3 (Cook 123, Malan 13) Mitchell Marsh on for a go. Australia not finding the penetration they want. Again it's Cook with a single from the first ball, Malan with five dots to follow.
74th over: England 235-3 (Cook 122, Malan 13) Malan trying to reel himself in against Lyon. Blocks it out, after Cook gets off strike from the first ball.
Good areas, Leo Nine. "Not many people mentioned yesterday the fact that Cook, in the course of his innings, overtook Jayawardene to become 8th highest run scorer in test cricket. Only 34 runs now behind Chanderpaul and 7th place…"
73rd over: England 234-3 (Cook 121, Malan 13) Oof, Malan might be a good-time-not-a-long-time kind of prospect today. Hanging back to Cummins, not handling the pace or the reverse swing. There's definitely some tail on that ball. Malan keeps a couple out, then launches into a drive, in the air, square of the wicket. Gets away with that boundary, and then another straight afterwards that's off the edge down to third man. Frustration for Cummins. A lot of edges in this series that have gone to ground.
72nd over: England 226-3 (Cook 121, Malan 5) Cook is handling Lyon well. Lyon hasn't got anyone out more than he has Cook, but Cook has been out more times to four pace bowlers ahead of Lyon. So I don't think the batsman is too bothered. Two singles from the over.
71st over: England 224-3 (Cook 120, Malan 4) What was that! Malan picks up four runs, and gets off the mark. But it was a good yorker from Cummins, good pace, and burst through the defensive stroke. Squeezed between the toe of the bat and the ground, bringing up a cloud of dirt, but wasn't quite straight enough to claim the stumps, and it scooted along the ground between keeper and slip. Drinks break.
"No surprise to see Root getting himself out," emails Adam Hirst. "He usually doesn't last the first hour on his second day at the crease, whether he's passed 100 or 50 or below 20, whatever." Can't really argue, on this series.
70th over: England 219-3 (Cook 119, Malan 0) A quiet Lyon over. New ball looming. Here's Mac (and cheese?) Millings from somewhere down Louisiana way. "My students here in the Deep South of the US will occasionally ask me to explain cricket. I usually tell them it's like baseball but with only two bases, and then show them clips of Shane Warne bowling, the physics of which they find hard to comprehend."
Cook is still out there, any rate. Here's Ali Martin on him.
69th over: England 218-3 (Cook 118, Malan 0) Should have been a good over for England, but from the second-last ball Root ensures that it's a shocker. Dawid Malan will have to produce another innings belying his experience.
WHAT. HAVE. YOU. DONE. I feel like Joe Root's parents waiting up for him after he hasn't come home at the time we agreed. He's only just laced a gorgeous, controlled late cut from a poor wide Cummins ball for four, and then he gets a short one. The hefty cross-bat shots haven't worked on this pitch. Root was nowhere near timing it off the surface, it loops high in the air, and Nathan Lyon at square leg barely has to move. Root leaves the field, throws his gloves done, kicks at the boundary rope, and is disgusted. But he should be. With England still 109 behind, the initiative could still easily be surrendered. And it's yet another decent fifty for Joe Root without making it into something more influential.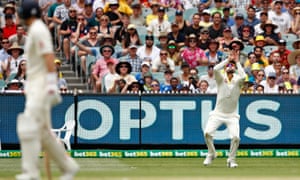 68th over: England 214-2 (Cook 118, Root 57) Here we go. Nathan 'Nathan' Lyon on for his first twirl of the day. The Australians have tweaked their field, with both a short leg and a midwicket much straighter than yesterday, trying to block the shot Cook played yesterday when he would come around his pad, smother the ball into the on-side, and scamper a single. Cook defends out the maiden over.
67th over: England 214-2 (Cook 118, Root 57) Cummins is on for his first over, after a stomach bug yesterday prompted plenty of Cummins and goings, on and off the field. He wasn't at his briskest yesterday, and is starting off in the 135 to 139 km/h bracket today. Builds up to nearly 140 by the last ball. His lines aren't quite there, able to be picked off through midwicket when too straight. Gets it right with the last couple of balls, Cook edging a run along the ground, and Root tightened up on off stump.
66th over: England 212-2 (Cook 117, Root 56) Root has been quiet for a time, but now gets just enough width to drive through cover for three. Plenty of time to run those as Warner chases back. Switching his line to the left-hander, Bird now offers a fraction of width on the other side, and finally draws a full blooded-stroke. Cook takes full toll on his favoured cut shot for four. Pressure off a little, with that over, and Cook adds another couple of runs, jammed through cover, for good measure.
Sounds good from John Starbuck, at least for the carnivorous. "I like the idea of Hampagne. We have something similar on Christmas Day, having had venison and chestnuts as the main meal the evening before. Good cheeses afterwards but no room for the pud. Then the next day we have a big cooked English, with plenty of black pudding added, preceded by Bucks Fizz – mildly intoxicating and healthy at the same time – finishing off in the afternoon/evening with Yorkshire ham, Belgian Beer ham and prosciutto, accompanied by home-baked bread. Oh and lots of Madeira, while we watch recorded tv programmes, such as Maigret in Monmartre. There was a time when we'd go to family parties for a full Christmas dinner but in the end it just wasn't worth the hassle. Don't strive for what you don't need."
65th over: England 203-2 (Cook 111, Root 53) Now we've gone back to two gullies for Hazlewood bowling to Cook, plus a point and a first slip. Cover quite short still, Shaun Marsh there. Still bowling fine stuff. A bit of movement through the air and off the pitch. Draws a false stroke from Cook through the covers, but the rest is kept out.
64th over: England 201-2 (Cook 109, Root 53) Gully. Short cover. Very short straight mid-off, standing right by the pitch. Slip. Point quite deep. Regulation positions at mid-on, mid-off, square leg. Odd field for Bird. Cook blots out most of the over, then gets one straight enough to take the inside edge down to fine leg for a single.
63rd over: England 200-2 (Cook 108, Root 53) If you like the art of fast bowling, watch Josh Hazlewood at work. My only beef with him is that he has a name that's hard to type. For some reason I always get it backwards. Hence giving him lots of stupid nicknames, because they're shorter. Can I just call him H? Aitch, even? Anyway, the beauty of his bowling today is his prodigious bounce. The steepness of angle he can make the ball rise at, even on this pitch. Root's nearly caught down the leg side off one ball, then swishes a cut and is nearly caught down the off side from another. Second maiden.
62nd over: England 200-2 (Cook 108, Root 53) Bird and Cook. Not a bad pairing for Christmas. Both determined cricketers with little flashiness about them, but who often get the job done. A maiden, as they test one another out.
"This tendency towards indiscriminate use of open sandwiches, however you spell them, is very worrying," writes Kim Thonger. "It's likely to lead to the breakdown of society if allowed to continue. The only proper food on Boxing Day is bubble and squeak with whatever cold meat is left over from Christmas Day. I'm not opposed to pickles on the side, within reason, but I don't think you'd find Brian Close caught in public with an open sandwich. I rest my case."
61st over: England 200-2 (Cook 108, Root 53) Another fine over from J-Hazey. Root escapes strike first ball, so Hazlewood works over Cook for a few more balls in a row. Striking high on the bat, taking an edge into the ground… it's challenging out there. Cook eventually gets some width, and drives, well behind square, through the gap between slip and gully for a couple of runs. Three, in fact. Won't mind that, it was the sucker ball from Hazlewood. Two gullies in operation for Cook against the attack leader. Every chance they'll be brought into the game. England's 200 is up, the deficit is 127.
60th over: England 197-2 (Cook 105, Root 53) Bird isn't really testing the speed gun this morning. High 120s in this over. Root chops him away for a couple of runs behind point, darts back for the second.
Oh, Christmas, Peter Gibbs. "I wrote to Adam on night one from a horsebox. I'm delighted to relate that I have now been upgraded to the barn. Nothing too much to report since the Queen's Speech blow up with my brother. Other than: having packed a pound of rather nice Black Bomber cheese and even more of some first-rate cold rib of beef to take home, my sister's dog surprisingly re-presented it to me (having opened the cooler, eaten it, and the half Stilton in there too) by throwing it all up right between my legs just as Harry Potter was on the gillyweed. Ah, and only 293 miles through the snow to get home tomorrow."
Tis the season?
59th over: England 195-2 (Cook 105, Root 51) Hazlewood from the other end. He's warming up into this over quickly, just as he's warmed up over the series. Been super impressive this Ashes. The fifth ball in the over is the one I like: it zips off the pitch, moves away from Cook a bit, and really flies through, even on this fairly slumberous track.
58th over: England 194-2 (Cook 105, Root 50) We've started early. It's 10:29am when the first ball is bowled. Scandalous. Jackson Bird gets the first trundle for the day, tightening Cook up but the batsman is able to jab a run from the back-of-a-leght delivery into the leg side. Root is a picture of solid defence. I'm sleepy already. How about you? Last ball of the over, Root gets width. Chops it away. Could have had four, but there's a fine sprawling save from Lyon, I think at gully, and the English fans go Roooooooooot as he darts through for the single and his 50th run.
"Ireland play their first test against Pakistan in May. Sport in Ireland is a crowded place. Hurling, Gaelic football, rugbies, soccer, boxing … and more before cricket, which a century ago would have been something, can find a place. So tried to explain it to a 14yo this Christmas who asked me to. He asked for the simple explanation. I didn't do well. Even on the basics."
Well, Damian Kemp, I've spent a lot of time in the US over the last 18 months, and got pretty good at this. My approach is to say: fundamentally it's about someone with a ball trying to hit a target, and someone with a bat trying to defend that target. That's the primary job, then the secondary job is to hit the ball away into scoring zones.
The detail of the front-foot no-ball rule or the pitching of lbw appeals outside leg stump can come later.
"With my spelling I think the internet is probably right," cedes Peter Rowntree by return email, "but however you spell it, the word is Danish in origin and the dish originated in Denmark, that much I do know. Our Xmas thrash in the hacienda was typical Colombian fare, 'Lomo del Trapo'. Best Smorkasbord (or whatever) I ever experienced in the restaurant of Copenhagen Railway station."
I much prefer your spelling, Peter. Has a more authentic mouthfeel.
The Australians had a big huddle out on the ground before, plus about 30 members of support staff, it seemed. All in a circle for some daily inspiration. I assume it was "Let's work hard and get these ________ out!" as the Grade Cricketer would have it. Now the only huddle on the pitch is television one, with… one, two, three… a dozen people, at my count, standing around filming Mark Nicholas and someone else I can't recognise from this distance. All under the watchful eye of an umpire, making sure the pitch isn't damaged. The groundsmen stand by wth a little tractor, carrying a cover just in case. Some chance of showers today, and they don't want to be caught out like their Perth counterparts.
Peter Rowntree fits the mustardy theme. "Hope you had a good Xmas. Hope also England do as well as they did yesterday. Given that we are into Smorkesbords – I'm bagging those with the tasty bits of pickled herring in mustard sauce."
I thought I had missed a lovely authentic spelling of a Swedish term, but the internet suggests not. Fill me in.
Did you mean: Smorgasbords

Your search – Smorkesbords – did not match any documents.

Suggestions:

Make sure that all words are spelled correctly.
Try different keywords.
Try more general keywords.
And now I can ask how all your Christmases were. (Did they all come at once?) That fellow Collins has been hogging up all the post-Christmas chat the last few days, but I want to hear some delightful tales of riding Yule logs down a snowbank into a vat of spiced brandy, or whatever it is you lot do when it's cold up north. Down on this side of the globe, we ran around with the dogs and lay down in long grass drinking cold beverages, and had a nice swim in the pool as the afternoon wore on.
Yesterday, my friends hosted their traditional post-Boxing Day gathering known as Hampagne, at which the only things offered for consumption are several legs of ham, and champagne. This is not strictly true, because mustard and bread are also served. Which made it an especially dangerous gathering for those who don't eat meat. Of which there were several. It might even be appropriate to append the word: scenes.
As ever, the OBO relies on you. Inform me, challenge me, keep me entertained. Delight me, surprise me, paint me like one of your French girls. I'll never let you go, Jack.
(blub blub blub)
On Twitter the handle is @GeoffLemonSport, or on the old horse-and-cart email it's [email protected]
England will resume 135 runs behind, with Cook on 104 and Root on 49. Pretty good position to push for a lead, but those two will need to bat on for a good while. Should a wicket or two fall, we've seen England slip away pretty quickly. What's that phrase? Crucial first session? Big first hour? Ok, most of the hours are pretty crucial. Most of the sessions are, too.
It was boiling hot overnight, still about 31 degrees when I went to sleep at 2am or thereabouts. It has cooled off a bit this morning, after a brief rain shower, and now it's a sweaty sort of humid day with some high cloud. So there might be a bit of swing from the ball, or might be when they get a new one. There might be some movement off the pitch if the humidity swells the seam. And there's always the chance of reverse on a wicket that can scuff the ball a bit. A veritable smorgasbord of things that may or may not happen.
Alastair Cook. He's the story of the day from yesterday, and could well be the story again today. I've read a lot of people saying what a magnificent hundred it was. What I enjoyed about it was precisely how unmagnificent it was. It was hideous. It was scratchy. It looked like it could fall apart at any time. And yet somehow, he gritted his teeth and saw it through. A triumph of determination. I enjoyed every painful minute. If you promise to Ctrl-Tab back here immediately, you can read read my ugly-beautiful piece for the ABC.
Before I begin blathering, start your catch-up reading right with Mr Collins. He didn't have to stay in the rocket this time. (Language warning on the video, less so on the article.)
Praise be, and here we are. The Melbourne Cricket Ground, the grand old dame. A concrete coliseum that yawns wide and swallows a hundred thousand. This is my home ground from my home town, a place I've been visiting since I was six years old, so what a pleasure it is to bring you an Ashes Test from this place today.
Geoff will be here shortly.