1) Way back when in January, Rod Stewart was invited to conduct the Scottish Cup fifth round draw. And what a job he did, grinning mischievously before swooping ostentatiously to pluck balls out of the pot. He also appeared to prod SFA president Alan McRae under the podium and distracted Alan Stubbs to the point that the former defender called out the wrong number – confusing No6 (Greenock Morton) with No9 (Inverness Caledonian Thistle) – when announcing Celtic's opponents. The televised draw concluded with Stewart, sporting a leopard-print scarf, ignoring a handshake from McRae, and giving a massive thumbs up to camera. Good work.
2) We've all mistaken the penalty spot for the football and air-kicked haven't we? Haven't we?
3) Back in March the British MMA fighter Joe Harding took time out to taunt his opponent John Segas with a Pardew-at-Wembley-style dance. It didn't end well.
4) In August, someone strapped a camera to the ref's head for the game between MLS All-Stars and Real Madrid. The results were all kinds of excellent. Warning though: not for the easily sea sick. It's David Elleray vs Tony Adams for the 21st century.
5) Let's be honest, Classic YouTube exists to flag up videos like this hypnotic beauty: 14 youngsters from Fuji Municipal Harada Elementary School skip over one rope in one minute and set a new team-skipping world record. Look at them go!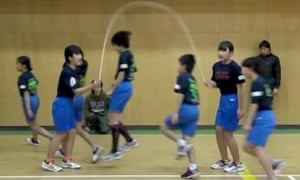 6) If you missed the best badminton rally ever in January then here's another chance to stand back slack-jawed and admire it. Best. Badminton. Rally. Ever. You're welcome.
1) The good ole days of the NHL: when players could climb into the stands to confront hostile fans, hunt one down, and beat him with his own shoe.
2) Surely the snowiest football (soccer) match involving a central American team ever.
3) Christmas time is for watching re-runs and this is a timeless classic. Who could get tired of the Castletown Donkey Derby?
4) Football in the snow, American style.
Spotters' badges: pexteballa, GrahamClayton, BlackCaeser
Guardian YouTube football channel

Guardian YouTube sport channel
• Classic YouTube will be back on 4 January.