THERE GO THE BELGIANS?
Manchester United and Chelsea play on Tuesday at the start of a few days of action that could end with no fewer than five English(ish) clubs reaching the last 16 of Big Cup as group winners. That would be an unprecedented achievement for any country, albeit one that would bear haunting similarities with the record of England's national team, who generally also emerge from qualifying stages proudly flexing their muscles and pointing to their yellow belts in karate. And we all know who gets knocked out next.
Still, you have to hand it to the Premier League. It couldn't have done much more so far than it has done, except perhaps lobby a little harder so that an even bigger number of VIP clubs gained admission to Big Cup at the expense of unphotogenic outfits from the nether regions. There remains the possibility that Manchester United and Chelsea will fritter away their privileges on Tuesday evening but it seems unlikely, especially in case of United, for whom that would entail finding a way to lose 5-1 at home to CSKA Moscow, which would be the most shocking European outcome ever experienced by an English outfit other than time Weird Uncle Fiver hadn't noticed that unfortunately-placed hole in his dungarees.
Meanwhile in Scotland, there's genuine glory afoot. Fresh from leading against Paris Saint-Germain for seven historic minutes in their last outing, the Queen's Celtic will book a place in Big Vase simply by not soiling their breeches at home to Anderlecht. The Belgians, on the other hand, sound like they have already booked an appointment in their laundrette, with their manager's lips all aquiver as he wibbled that their hosts "will fly like hell on the pitch so we have to be ready, their start will be possibly devastating". That evoked a similarly pathetic speech given back in 1971 by Frank De Munck, manager of Lierse, who are the only Belgian club to have overturned a European tie after being pummelled in the home leg. "I do not think we can expect to beat them," sobbed Munck before his team's trip to Dirty Leeds, 2-0 winners in the first leg. "We will do our very best, but I think we will have to be satisfied if we can avoid a very heavy defeat." Lierse won 4-0. But Brendan Rodgers would never leave a side open to such a European whupping, right?
LIVE ON BIG WEBSITE
Join Paul Doyle from 7.45pm GMT for hot MBM coverage of Manchester United 2-0 CSKA Moscow, while Simon Burnton will be on hand for Chelsea 1-2 Atlético Madrid and Nick Miller will be helming the Big Cup clockwatch.
QUOTE OF THE DAY
"Winning the cup is a big thing and obviously it should be celebrated. But it is very possible to do so in a manner that shows the cup a bit more respect. I am sure it wasn't intentional from [Aleksander] Melgalvis but it came out the wrong way regardless. I think Melgalvis and Lillestrom agree with that" – Norwegian FA communications director Yngve Haavik offers some thoughts after the King's Cup was paraded In All Its Finery.
RECOMMENDED LISTENING
Jacqui Oatley is in the hot seat for the latest edition of our … award-winning Football Weekly podcast.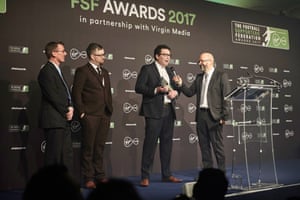 SUPPORT THE GUARDIAN
Producing the Guardian's thoughtful, in-depth journalism – the stuff not normally found in this email, obviously – is expensive, but supporting us isn't. If you value our journalism, please support us by making a one-off or recurring contribution.
FIVER LETTERS
"The London Stadium sounds like a made-up name because West Ham couldn't afford the rights to the real one (like on old Pro Evolution Soccer – Trad Brick, Magpie Park, etc). How about The Other Boleyn Ground?" – Mike Hall.
"Re: rubbish 'derby titles' (Fiver letters passim). Up here in the backwaters of north Scotland's Highland League, where Brora Rangers squeezed past Fort William 16-0 at the weekend, the coastal derby between one-time deep-sea fishing hotbeds Lossiemouth and Buckie Thistle has sometimes been referred to as 'El Pelagico'. In addition, Lossie's Grant Park home (seating for 50 in the main stand, the rest of you find the least muddy patch of grass you can) has once or twice been hailed as 'The Bernagow', gow being the local dialect for gull" – Mike Crockett.
"Mark Clattenburg (yesterday's Fiver) might have turned the football world (or just in England) upside down while he visited the USA! USA!! USA!!! During NBC Sports' Premier League Fan Fest in New York City, Roger Bennett (one half of the Men in Blazers) asked Clattenburg if he would consider returning to the Premier League. Clattenburg: 'Never say never.' Be afraid, England … be very afraid" – JJ Zucal.
"So here it is, a few days before Toronto FC and Seattle battle for MLS supremacy, and you're dwelling, instead, on Monsieur Clattenburg. You have nothing to say about Sebastian Giovinco, the tiny Italian who strikes brilliant free-kicks for Toronto, cannot tackle, and is frequently a master of indiscipline? Or Jozy Altidore, who managed to send TFC through to the finals while barely able to walk (so presumably playing the way he did while in England)? Come on, Fiver. Football's horizons extend beyond the UK's borders. At least until Brexit" – Chris Robert.
"Re: Marco Silva's response to Sam Allardyce's comments (yesterday's Bits and Bobs). After seven seasons, Big Sam had already reached peak Big Sam with this photo" – Jim Hearson.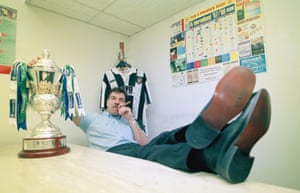 "This might ruin your day: Christmas-themed football shirts" – Tony Crawford.
Send your letters to [email protected]. And if you've nothing better to do you can also tweet The Fiver. Today's winner of our letter o'the day is … Mike Crockett, who wins a copy of Football Manager 2018, thanks to the good people at Football Manager Towers. We've got plenty more to give away, so keep typing.
THE RECAP
Get the best of Big Website's coverage sent direct to your inbox every Friday lunchtime (GMT). Has the added bonus of being on time. Sign up here.
BITS AND BOBS
Kevin De Bruyne managed to keep a straight face when he said it was a shame that Paul Pogba will be out of Sunday's Manchester derby. "It's a competition, you want to play against the best teams and the best players," he intoned, the corners of his mouth twitching all the time. David Silva, meanwhile, has been rated "doubtful".
Crystal Palace lashing loads of money on a shiny new stand won't chip away too much at their transfer budget, according to chairman Steve Parish. "That transfer budget is ring-fenced," he roared.
Anyone hoping to see Tottenham's best and brightest in their Big Cup game against Apoel might be in for a letdown, as Mauricio Pochettino plans to give Harry Kane, Hugo Lloris, Christian Eriksen, Eric Dier and Kieran Trippier a breather. So, erm, roll up, roll up for Paulo Gazzaniga.
Jürgen Klopp reckons a breach of managerial protocol, and not his touchline antics, were to blame for his touchline fall-out with Chris Hughton at Brighton. "I can only apologise, it was not my intention," he tooted.
In one of those lovely moments where the manager of the biggest and richest club in the world thinks there's a conspiracy of some sort against one of his players, Zinedine Zidane reckons you've all been v v v mean to Him. "I think [He] deserves more respect because [He] is such a great player that when things don't quite go [His] way everyone has something to say about [Him]," waah-waahed Zizou.
And in a further cruel blow to the historically-oppressed English, the Welsh FA's chief bod has declared their new gaffer will not be from over the border. "We have always favoured Welsh people because arguably the passion is there," Delilahed Jonathan Ford. "Somebody said this earlier, Welsh most definitely, foreign possibly, but definitely not English."
RECOMMENDED LOOKING
Fresh out the box, the latest David Squires.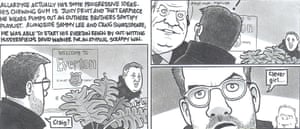 STILL WANT MORE?

Welcome to Football: how German clubs are helping to give refugees hope. By Ed Aarons.
The film student who took up video analysis and ended up coaching Norway.
Suzy Wrack's women's football blog meets new Arsenal manager Joe Montemurro.
Ewan Murray on the bright future for Queen's Celtic defender Kieran Tierney.
Oh, and if it's your thing … you can follow Big Website on Big Social FaceSpace. And INSTACHAT, TOO!