That's all for now. Do check back shortly for a full match report and thanks as always for following along with us.
And moments after a free kick with only one Spurs player in the area, there's the whistle and Spurs are rightful winners of Group H after come-from-behind win over Dortmund in Germany!
90 min+6: Now Toljan is whistled for a clattering challenge on Rose and shown a yellow card by the referee. He'll be suspended for the group-stage finale against Real Madrid.
90 min+5: Spurs win a corner and Son is taking it. It's cleared.
90 min+2: Weidenfeller enters the match for Burki and we're underway for the last few minutes. Burki, taken off on a stretcher, doesn't appear to be gravely injured but Dortmund are taking no chances.
90 min: As a stretcher comes on for Roman Burki, it appears the fourth official is signaling for five minutes of stoppage time.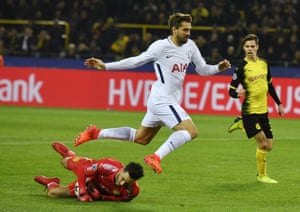 89 min: … and Llorente has broken three and has a golden chance to make it 3-1, but Burki sprints off his line and breaks up the attack. Surely that should have been a goal and Llorente is lamenting not sealing the deal, but now Burki is down receiving medical treatment for the collision.
88 min: A good chance by Aubameyang is blocked by Dier. A corner for Dortmund and Gotze takes it, but it's cleared away and Spurs are on the counter …
86 min: A long ball played into Guerreiro, but his left-footed volley is way off target. Now Spurs will make their final sub as Llorente comes in for the goal-scorer Harry Kane.
84 min: Dortmund have won a corner and Guerreiro will take it. It kicks around in the area for a spell before it's cleared by the halfway line. Now Spurs make a second change as Sissoko comes in for Eriksen.
83 min: Spurs are going through top of Group H, Real Madrid result notwithstanding, if they can just weather Dortmund's last stand for another 10 minutes or so.
82 min: And that will be it for Dele Alli, who is exiting as Dembele comes on.
81 min: Dele Alli swings it across the area to Eriksen whose header just misses the target!
78 min: Dortmund make a second switch as Omer Toprak enters for Zagadou.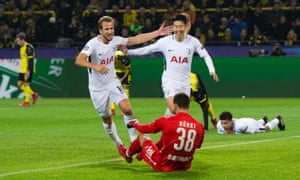 Dele Alli works it down the left side again, bursts through a pair of Dortmund defenders into the area and he's looking to find someone … and from within a forest of four defenders picks out Son, who pounds it into the back of the goal! Spurs are up 2-1 in Germany from a goal down!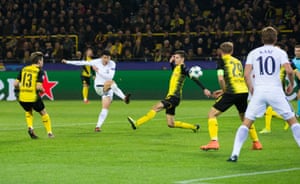 74 min: Spurs continue to try and work it up the left flank, but Dele Alli is dispossessed and Dortmund move into attack.
72 min: Spurs win a corner and it's taken by Eriksen, but his offering swings directly into Burki's arms.
70 min: Aurier muscles Gurreriro to the turf as they scramble for a loose ball and the referee awards a free kick to Dortmund. It's out for a Dortmund corner, but nothing comes of it and Spurs are on the attack in short order.
69 min: Tottenham threatening again but the spacing in the area is a bit congested and Burki is able to pounce on to the loose ball.
66 min: Indeed, it's Gonzalo Castro entering for Shinji Kagawa, Dortmund's first substitution.
64 min: Yarmolenko is whistled for a foul on Rose and Spurs take over possession. The match still being played at a wildly high pace here. Looks like the first sub of the night is coming with Gonzalo getting ready to check in.
62 min: Larson from Philadelphia informs us that Harry Kane has become the third player, after Didier Drogba and Diego Costa, to score eight goals in his first eight Champion League games. Not bad.
60 min: Dortmund have had the wind at their back since the equalizer, but Spurs have momentarily stemmed the tide and won a corner here. It's sent in by Eriksen but Dele Alli is whistled for a foul on Bartra.
57 min: Kane slides it through to Dele Alle, but his low shot on goal is a few yards wide of the target. Burki wastes no time on the goal kick, putting it right back into play.
54 min: Dortmund win a corner and it's taken by Kagawa, but he delivers it right into the waiting hands of Lloris.
52 min: Schmelzer is a shown a yellow card for an overzealous challenge on Aurier.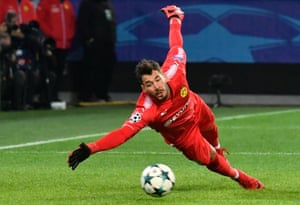 And it's Harry Kane, seeminly from nothing, who runs on to a pass from Alli and fires it lowe into the bottom corner from the edge of the area. What an effort and Spurs are back on level terms.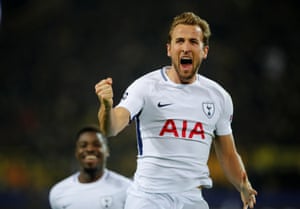 46 min: And we're off in the second half!
The players are making their way down the tunnel. We should be under way for the second half any minute now.
Pierre-Emerick Aubameyang's stylish opener plus a pair of saves by Roman Burki, including one of the world class variety, have Dortmund in front after a crowd-pleasing opening 45 minutes. More to come.
45 min: We're hearing Real Madrid are running away with things in Cyprus with two goals in the last three minutes to open a 3-nil lead. Meanwhile, Spurs have won a corner right before half-time.
43 min: Kane takes the free kick … and it's swung into the front of the wall and out for a throw-in. Not his finest effort.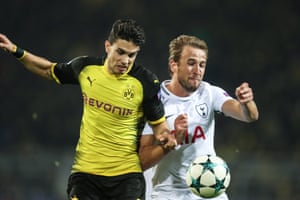 42 min: Son is hacked down just outside the area by Bartra and Spurs will have a free kick from a dangerous spot.
40 min: Another shot from close-range by Eriksen, this one far more dangerous, turned away by a hair-trigger Burki save. Corner to Spurs. It's taken by Eriksen and sent toward the far post where Dier heads it on goal … and it's turned away only by the fingertips of a fully extended Burki. Wow! That for all intents and purposes should have been the equalizer.
37 min: Eriksen has a chance on goal but it's hauled in by Burki. Dortmund attempt a quick counter-attack, but it's broken up by Spurs and now they're building up slowly from the halfway line.
33 min: Spurs waste no time moving into attack and win a pair of corners, but nothing comes of them.
A goal felt inevitable and it's come right after the half-mark! Yarmolenko plays Aubameyang onside with a gorgeous flick and the Gabonese striker makes no mistake in depositing it inside the far post. A beautiful goal!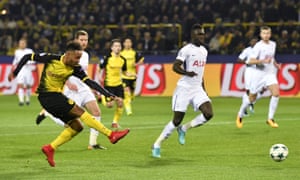 30 min: Moments after Son wins a free kick on a foul by a Dortmund defender, the South Korean has a go on goal from inside the box but it's saved by the keeper.
26 min: Dortmund continue to attack up the left flank, putting Serge Aurier to the test. So far he's been up to the challenge.
24 min: A chance by Son right along the touch line, but Zagadou, who's been excellent so far tonight, is there to bust it up. Meanwhile, Real Madrid have scored an opener against Apoel, which is bad news for Dortmund's already slim chances of surviving the group.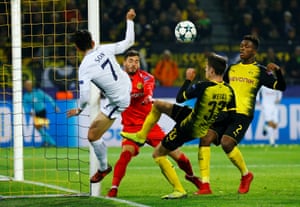 20 min: Spurs' high press, say nothing of their high-quality lineup, is not typical of a team that's already qualified against a team practically consigned to elimination, but it speaks to their desire to win this group outright after a third-place finish in last year's group stage.
19 min: Aubameyang sprints toward goal forcing Lloris off his line but just misses the target with his shot. The best chance of the day for either side so far!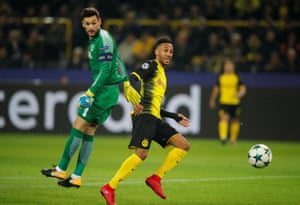 17 min: Dortmund building nicely here, keeping possession in the final third for a minute or so, but can't seem to penetrate the back line of Spurs before the build-up is turned back.
14 min: Spurs build in attack but Son is whistled for a hand ball, giving a free kick to Dortmund from the back.
12 min: Yarmolenko has the ball in a bit of space near the top of the area but his left-footed effort is weak and easily corralled by Lloris.
11 min: It's three at the back for Spurs, who early on are really going for it despite having assured passage to the knockout stage. That combined with the must-win situation facing Dortmund has made for open, entertaining play in the early stages.
8 min: Now Dortmund have won a corner in their first foray into the final third. Schmelzer to take it. Zagadou is able to negotiate it on goal but Lloris is there to haul it in.
5 min: Another corner for Spurs and it's clear Son's pace is troubling the Dortmund back line early on.
3 min: A good ball forward from Dele Alli to Son, who takes a touch forward into the area before his shot is deflected out for the first corner of the night.
1 min: And they're off! Spurs attacking from right to left in all-white kits, Dortmund from left to right in traditional home strips.
The teams are on the pitch. The Champions League anthem is under way and the final handshakes are afoot. Not much longer now.
Hello and welcome to today's Champions League group-stage match between Borussia Dortmund and Tottenham Hotspur. Spurs have already booked passage to the knockout stage and are looking to lock down the top spot in Group H, while Dortmund's fading chances of qualifying for the last 16 may finally be laid to rest today. Here's a look at today's teams with kickoff just over 20 minutes from now.
Borussia Dortmund
XI: Burki, Toljan, Bartra, Zagadou, Schmelzer, Kagawa, Weigl, Gotze, Yarmolenko, Aubameyang, Guerreiro
Subs: Weidenfeller, Sahin, Dahoud, Philipp, Schurrle, Castro, Toprak
Tottenham Hotspur
XI: Lloris, Aurier, Dier, Vertonghen, Rose, Winks, Sanchez, Alli, Eriksen, Son, Kane
Subs: Vorm, Trippier, Sissoko, Llorente, Dembele, Foyth, Davies
Referee: Clement Turpin (France)