FRIDAY QUIZ!
Read these 10 quotes, and then answer the simple question that follows:
1) "You can travel anywhere in the world."
2) "How long do you want to go? How long will you have the confidence of people?"
3) "He/It's going to take care of you."
4) "It is down to us to change the opinions of people."
5) "In our job it's the distances and the quality that make the difference."
6) "You're in a central position, you're in a very safe position."
7) "We need to build our project and our era, too."
8) "He/It has all the ingredients to go a long way."
9) "Reliability is incredibly important."
10) "You need to fight against your inhibitions, the fear that you won't get over the line."
Ten quotes, all said in the last 24 hours. Four of them from the mouth of Elon Musk, when introducing Tesla's new Semi truck, five courtesy of Arsène Wenger, when looking ahead to Arsenal's big Saturday set-to with Tottenham, and a solitary contribution from Mauricio Pochettino of Spurs. Can you guess who said what? Can you? Huh?
We'll come back to that. Clearly, however, this outpouring of managerial quotage can mean only one thing: the Premier League juggernaut is thundering back into town, announcing its return with the rumble of its throbbing diesel engine, the parp of its horn and the squeal of its highly anticipated north London derby. This should be quite the contest, between two teams with similarly enterprising attacks – both have scored precisely 20 league goals so far this season – and contrastingly reliable defences – Tottenham's has conceded seven goals, and Arsenal's a hefty 16. A further statcrunch reveals both teams have averaged a 58.4% share of possession in their 11 league games so far while in terms of passing accuracy the Gunners claim bragging rights by virtue of an 84.1% running total, compared with Tottenham's 83.9%. Mathematicians, were they to accidentally stumble upon this email, will notice the difference here is a wafer-like 0.2%, meaning that if Spurs had completed two extra passes per match – and they average 563 pass attempts – they would sit above their rivals. Fascinating, we're sure you'll disagree.
However, Spurs have won only two of their last 32 league visits to Arsenal. This goes beyond being a poor run and tiptoes into the realms of rank underachievement. Under Pochettino Spurs have played 16 away games against members of last season's final top six, and won one of them, which is not so much disappointing as disrespectful. "It's important for us to start beating the big teams away. Not just Arsenal, but all of the top six," cheered Harry Kane. "If we want to be challenging for the title, these are the games we need to win away from home. We need to go and play the way we play against them at home, and find a way to win." Of course they have challenged for the title in the last two seasons without winning these games, so evidently if that is the limit of their ambitions they don't have to win them at all, but if they're actually going to finish top of the league it would probably be helpful.
It all adds up to an encounter so tense and thrumming with energy you could charge a truck with it. But what, The Fiver hears you ask, will the outcome be? The Sports Analytics Machine, developed by statistical boffins at the University of Salford to use "a series of algorithms" which include "recent results, which team is at home, the strength of teams who both sides have played as well as the quality and the form of the players on the pitch" to predict the likely scoreline of football matches, has sifted through the data and declared itself confident that the most likely final score is … 1-1. Obviously.
Quiz results: Musk: 1, 3, 6, 9. Wenger 2, 4, 5, 8, 10. Pochettino 7.
Six right or fewer: look what you could have won. Yes, a 1982 Talbot Samba. 7-8 right: it's a beautifully crafted Wedgwood dinner service. 9-10 right: it's tonight's star prize! A 15-foot CJR speedboat!
QUOTE OF THE DAY
"The booking was made by a junior member of staff who was unaware of Icke and his objectionable views. The event has been cancelled" – Manchester United swiftly cancel Friday's night's "An Evening with David Icke" at Old Trafford. Because it's obviously no place for a paranoid conspiracy theorist and controversialist.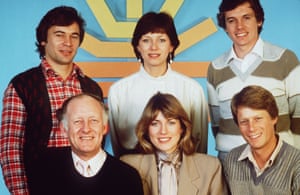 SUPPORT THE GUARDIAN
Producing the Guardian's thoughtful, in-depth journalism – the stuff not normally found in this email, obviously – is expensive, but supporting us isn't. If you value our journalism, please support us by making a one-off or recurring contribution.
FIVER LETTERS
"As the most prominent Socceroos fan not wearing a condom in John Milce's photo (yesterday's Fiver letters), it should be on the record that the said fans were wearing condoms in homage to Socceroos star Aaron Mooy, as opposed to some sort of weird down under fashion statement. As you would expect of a condom-clad Australian bloke, their excitement in all three post-goal celebrations was notably expressed by the showering of all and sundry nearby (foremost my dearest and me) with beer" – Stuart Veitch.
"In your paragraph about Peru's pre-match high jinks pending their qualification for the World Cup (yesterday's Fiver), you forgot to mention the celebratory lasers that some fans shone at All Whites players on the pitch. Perhaps the most infuriating part of the All Whites losing, though, is the insufferable gloating by boring rugby fans, who think that because the All Blacks are the best out of a dozen countries that take their sport seriously, we should stop trying at other sports" – Matthew Shore.
"This may sound like a crackpot theory but I'm not convinced MLS actually exists. Some of the player names are definitely made up just like in Championship Manager when you have played it for 10 seasons and they're creating new players based on random name generator and retired players. Otherwise, how do you explain Romario Williams, Keegan Rosenberry, Boniek García, Baggio Husidic and Pele van Anholt? Come on USA! USA!! USA!!! , admit it, MLS is fake news" – Noble Francis.
"All those 'Sign up now!'s at the start of recent Fivers got me thinking about The Fiver World Cup edition, which we'll inevitably hear about soon. Last time around, it was 'O Fiverão' in a nod to the Brazilian hosts. I was curious to see what the Russian equivalent would be. According to the robot voice of Google Translate (other comedy translation services are available), it's something that sounds rather like 'Pant Lip'. Intriguing, but I'm not convinced that such an email would make it past my work firewall" – Scott Pratt [The FiveЯ? – Fiver Ed].
"Surely we can't let an Aussie soaps/football thread pass by without a nod to Ailsa's cracker against Barcelona in the 1991 Cup Winners' Cup final? Strewth! What a ripper!" – Jim Scragg.
Send your letters to [email protected]. And if you've nothing better to do you can also tweet The Fiver. Today's winner of our letter o'the day is … Noble Francis, who wins a copy of Football Manager 2018, thanks to the good people at Football Manager Towers. We've got plenty more to give away, so keep typing.
THE RECAP
Get the best of Big Website's coverage sent direct to your inbox every Friday lunchtime (GMT). Has the added bonus of being on time. Sign up here.
NEWS, BITS AND BOBS
Gary Lineker is defending himself against charges of hypocrisy after being confirmed as co-host for the Ethics World Cup finals draw in Moscow. "I'm hosting the draw for a World Cup that I've watched all my life, played in twice, won its Golden Boot and will present for BBC Sport for the sixth time next summer. I just wish I could still play in it. Doesn't make it a political endorsement," he whooped, taking full advantage of those 280 characters.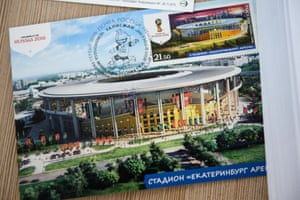 FA suits are facing new questions about a potential cover-up after announcing Lee Kendall, the departing England Women's goalkeeping coach, would not face action over allegations he spoke to Eni Aluko in a mock Caribbean accent, while concealing the fact he had admitted her accusations were true.
West Brom boss Tony Pulis says he'd understand if he got the sack, what with those zero wins in 10 games and Chinese owner Guochuan Lai flying in to watch Saturday's defeat at home to Chelsea. "I've got great respect for the football club, the supporters, the chairman, the board – it's just life," he cooed. "It's the way it is. If you don't get results, you're under pressure."
The general state of Everton means David Unsworth is inching closer to the full-time Goodison gig. "This is an amazing club with, in my opinion, the best fans," he Trumped, before tooting a bit about Sam Allardyce: "It would surprise me that anybody would rule themselves out of potentially being Everton manager."
Paul Pogba, Zlatan Ibrahimovic and Marcos Rojo are back in the Manchester United squad after assorted-knack.
And Leatherhead's Jack Midson has had a pop back at Billericay after beating the noisy Es$ex outfit 3-1 in their FA Cup first-round replay. "They don't like playing us, we've kept quiet, they've said a few things," mused Midson. I've got huge respect for [owner Glenn] Tamplin, but he said they would beat us 5-0, that was disrespectful."
STILL WANT MORE?
Arsenal's Vivianne Miedema tells Jacob Steinberg about winning Euro 2017, equal pay and women's football on the rise in the Netherlands.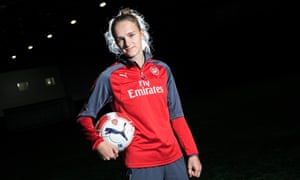 Wild-eyed fury, urchin's grin, sheer dynanism – Gianluigi Buffon had it all, swoons Richard Williams.
Will Tottenham assert their authority at the Emirates, a renewed rivalry at Old Trafford and eight more things to look out for this weekend.
Cech or Lloris? Kolasinac or Rose? And Alli or Özil? Who makes it into our combined Arsenal-Tottenham XI.
Ready for some red-hot derby action, huh? Martin Laurence has four huge ones for you this weekend.
David Luiz to swap Chelsea for Manchester United and Virgil van Dijk to Liverpool? That and more in today's Mill.
And World Cup losers and all-time leading goalscorers in another QUIZ! QUIZ!! QUIZ!!!
Oh, and if it's your thing … you can follow Big Website on Big Social FaceSpace. And INSTACHAT, TOO!
VOTE! VOTE! VOTE!
Big Paper, Football Weekly, David Squires and Jonathan Wilson are all up for gongs at the FSF Awards and you can vote for them here, should you wish.
FIRST WAYMAR ROYCE. THEN ARTHUR DIGBY. AND NOW THE DEEPEST OSTLERE CUT OF ALL. GOOD LUCK, LAWRENCE