Goalkeeper
Petr Cech has been one of the finest goalkeepers of the Premier League era and, at 35, is still very good. But he is past his best, with that prediction of him being worth 10 points a season to Arsenal when he joined in 2015 always looking over-optimistic. Hugo Lloris is far quicker and more decisive when sprinting off his line, excellent in one-on-ones and among the best sweeper-keepers around. The wiry Frenchman is also particularly agile and regularly makes spectacular point-gaining saves, such as against Real Madrid in this season's Champions League. Cech sits out Arsenal's Europa League tussles.
Defence
As both teams use a back three more often than not, let us go with that formation. Toby Alderweireld has got to be the first name on the team sheet, although he will not be in action on Saturday because of injury. When he returns to fitness, the Belgian will not take long to show the class that makes him one of the most accomplished defenders in the Premier League, commanding and creative from the back as well as a danger at set pieces. The three players who could sensibly rival Alderweireld for the title of the Premier League's best defender are Chelsea's César Azpilicueta, Southampton's Virgil van Dijk (some recent dodgy performances notwithstanding) and Spurs' very own Jan Vertonghen.
This has been Vertonghen's best season for Tottenham. He has grown in consistency, solidity and influence, becoming, in fact, the Spurs player with the most touches of the ball in the Premier League this season. He also tops their charts for tackles, interceptions and clearances. Similarly, Nacho Monreal has had a mostly decent season for Arsenal and has become quite reliable in a three-man defence despite admitting that he was frightened to move from left-back when initially asked to do so by Arsène Wenger. Like Vertonghen, Monreal leads his team's tackling, clearing and interception statistics. But unlike Vertonghen, he remains prone to lapses, such as during the 4-0 defeat an Anfield or when getting in a muddle with Cech at Everton or being roughed up at Watford.
Laurent Koscielny, meanwhile, has yet to find his best form this season but has been solid for several campaigns, which gives him an edge over Davinson Sánchez, who has been quietly superb in his debut season in English football but was omitted for Tottenham's visit to Old Trafford, coincidentally after José Mourinho boasted about successfully targeting him during Manchester United's Europa League victory over Ajax last season. There has been no sign this season of the 21-year-old being as hesitant on the ball as Mourinho suggested but he was spared an important test and Eric Dier floundered in his place.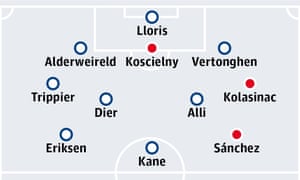 Midfield
Few can match Héctor Bellerín for speed but his decision-making and execution when he gets into promising positions leaves plenty to be desired. So the right wing-back role goes to Kieran Trippier, whose deliveries are consistently threatening. Serge Aurier can be a menace, too, and is a fearsome tackler but has a reckless streak that he has not yet mastered. On the left, Danny Rose had developed into a fabulous all-round operator before getting injured in January and, since returning to action recently, seems ready to resume where he left off. It is a close call between him and Sead Kolasinac but we will plump for Arsenal's free transfer on the grounds that he is a more ferocious tackler and has a more reliable shot (no, we haven't forgotten Rose's contribution to the north London derby in 2010).
Granit Xhaka is Arsenal's go-to man in central midfield – he has touched the ball more times than any other player in the Premier league so far this season – and has a tremendous shot on him. But he is not reliable enough, makes nonsensical tackles and gives the ball away too often. Eric Dier gets our nod as the midfield anchor, although we are tempted to overrule Mauricio Pochettino and make Mousa Dembélé our first pick in that position, since the Belgian is a far better dribbler. Harry Winks is emerging as a delightful and dynamic creator, putting the unfortunate Jack Wilshere in the shade, but we are deploying Dele Alli as a good old fashioned box-to-midfielder. He has the drive, technique and vision to dictate play from deep while also seizing opportunities to drive forward to get on the end of deliveries. Mesut Özil drifts out of games too often.
Attack
Christian Eriksen used to go missing, too. Not any more. He has become tougher, more enduring and more productive. Whether wide or in-field, he is a constant influence, adept at finding space and full of imagination and lethal precision. Alexis Sánchez, meanwhile, is going through a less productive period of his career and is possibly in a big huff – but a move to another team, even a combined Arsenal-Spurs XI, would surely give him the stimulus he needs and bring him back to his best. Both Arsenal and Spurs have excellent central strikers, although Wenger does not seem fully to recognise the value of the one on whom he spent £52m, since Alexandre Lacazette has not started some important matches and has been shunted out wide in others. Harry Kane, meanwhile, is the fulcrum of his team's attack, an exceptionally accurate shooter and a strong and nimble contributor to buildups all over the opposing half, making him more complete than Lacazette and Olivier Giroud.