THE KIDS ARE NOT ALRIGHT
Seven years ago, an experimental Liverpool team featuring 19-year-old Dani Pacheco, 18-year-old Danny Wilson, 19-year-old Nathan Eccleston, 18-year-old Jonjo Shelvey and 18-year-old Tom Ince crashed out of the Milk Cup at home to Northampton Town. At which point their experienced manager would have thrown a protective arm round his young charges, right? "These players have to accept responsibility," raged the big boss man, 63. "I accept responsibility for changing a lot of players in the team, I did it because I honestly thought the players I put on the field were good enough to win the game and they weren't. I am just bitterly disappointed that the team I had so much faith in did not repay that faith." Oh flaky, deceitful, treacherous teenagers! How could you mistreat him so!
Anyway, history has a habit of repeating itself, and on Tuesday night an experimental Crystal Palace side featuring 19-year-old Timothy Fosu-Mensah, 21-year-old Jairo Riedewald, 21-year-old Ruben Loftus-Cheek and 22-year-old Sullay Kaikai was knocked out of the very same competition by Bristol City. It's never great to lose 4-1, but these things happen to teams packed with young talent gaining priceless experience, so the tenor of their manager's post-match quotes will have been supportive rather than distancing, one would have thought. "I am disappointed by the way we capitulated. It was an opportunity for them to knock on the door of the first team. I am bitterly disappointed that didn't work out because there were very few performances that made me think I was picking the wrong team." Oh flaky, deceitful, treacherous, etc. How could, etc.
To be fair to Mr Roy – you'd already worked it out from our trail of subtle clues, hadn't you – he was quickly on hand to defuse a row between his own fanbase and poor old Pape Soauré, who tossed his shirt into the Palace end after the final whistle, only for it to come whistling straight back in the direction of his startled coupon. "I am sorry for Pape," he began. "I am certain him throwing his shirt into the crowd was a positive gesture on his part, so I hope he does not take that too unkindly. Our fans are very good, so the last thing I am ever going to do is say anything negative about them. They are really suffering at the moment. If they are showing signs of displeasure, I think they are entitled to that." All of which proves that at least some lessons have been learned from seven years ago, when he locked horns with the "famous Anfield support" to not-wholly-beneficial effect. Clever Roy!
LIVE ON BIG WEBSITE
Join Scott Murray from 8pm BST for hot MBM coverage of Tottenham 2-0 West Ham.
QUOTE OF THE DAY
"I was at the Huddersfield against Manchester United match. I found a £5 note at the stadium and gave it to dad because we cannot keep what is not ours. Can you please ask Mr [David] Wagner if Aaron Mooy can keep the money because he played very well and scored yesterday. I have put the £5 note in the envelope" – a young Huddersfield fan warms the The Fiver's c0ckles by sending the Terriers a handwritten letter including some pocket-money for their flamin' brilliant midfielder.
RECOMMENDED LOOKING
David Squires. Everton. Zing, zing, zing!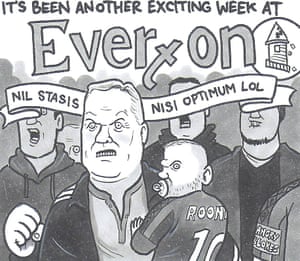 SUPPORT THE GUARDIAN

Producing the Guardian's thoughtful, in-depth journalism – the stuff not normally found in this email, obviously – is expensive, but supporting us isn't. If you value our journalism, please support us by making a one-off or recurring contribution.
FIVER LETTERS
"I don't think it's gotten much attention across the pond but you might be interested in MLS's attempts to enter the big leagues of American sports by Anthony Precourt's attempts to secure his Columbus Crew SC club a new stadium. He seems bound and determined to rip the Crew from Columbus and transplant them in Austin, a city that doesn't seem to want an MLS club all that much (at least not in this manner). Precourt's and the league's machinations have generated outrage from not only Crew supporters but those of other clubs throughout the league, a point the league is intent on ignoring. If you'd be so kind as to publicise savethecrew.com and invite your readers to check out #SaveTheCrew on social media disgrace Twitter, as well as any shows of solidarity, it would be much appreciated. The old country of Europe has its fair share of terrible owners so I'm sure supporters there will find the ugliness of this whole situation particularly intriguing. Thanks" – Dave Hageman [watch this space – Fiver Ed].
"Re: the Milk Cup draw (yesterday's Fiver). Dear Shaun Harvey, about that global debate you're after. Social media disgrace Twitter users: 328 million. Global population: 7.6 billion. Percentage of the global population not on social media disgrace Twitter: 95.7%. Good luck" – Olli Thomson.
"Re: 'Ronald Koeman's doomed Captain Ahab-like pursuit of Olivier Giroud' (Fiver passim). Worth pointing out that the whale dragged Ahab under and then they both vanished. Fairly prescient for The Fiver" – Ken McCarron.
"Re: Alessandro Cupini not being born when The Fiver was already a tired pastiche of itself (yesterday's Still Want More?). Wasn't the first ever edition of The Fiver already a tired pastiche of itself?" – Mike Rice.
Send your letters to [email protected]. And if you've nothing better to do you can also tweet The Fiver. Today's winner of our prizeless letter o'the day is … Mike Rice.
NOTIFICATIONS AND QUERIES
Big Web App has launched its new and improved Premier League notifications. Get more details and sign up here.
BITS AND BOBS
Liverpool's Rhian Brewster scored a hat-trick as an England side yet to catch the national disease beat Brazil 3-1 to book their place in the U-17 World Cup final.
The Football League has defended the Milk Cup ball that Pep Guardiola criticised to the extent that it sounds like the kind of 49p flyaway you might have picked up on Skegness sea front, circa 1985. "The Mitre ball used in this season's [Coca-Cola] Cup is of exactly the same technical specification as the balls used in the [Endsleigh League] and [Leyland Daf] Trophy, all of which are tested in accordance with the Fifa Quality Programme for Footballs," blathered a suit.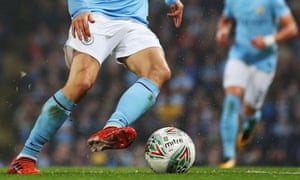 In shock news, it turns out Luke Shaw and José Mourinho don't get on and the Manchester United left-back is considering how best to do one.
After 78 years in football, Juve's Gianluigi Buffon has decided he'll hang up his gloves at the end of the season unless he wins Big Cup. "This is my last season and I am quite convinced of the choices I take," he sniffed. "I am a very calm person, in the sense that I am not afraid of the future and of what my life may be."
Slaven Bilic just can't get his Hammers running enough. "We need to do more running that counts and that is high‑intensity running and sprints," he sniffed of his West Ham team with an average age of 78.
And Leicester are in advanced chats with Whispering Claude Puel about jumping into the managerial hot seat that Craig Shakespeare was levered out of.
THE RECAP
Sign up and receive the best of Big Website's coverage, every Friday, it says here. Seems to be a curious lack of mentions for The Fiver …
STILL WANT MORE?
"Everything changed – completely. Suddenly we thought: 'We're going to die'" – Newcastle's Mikel Merino talks to Louise Taylor about the Dortmund bus attack and why life in England is not as he thought it would be.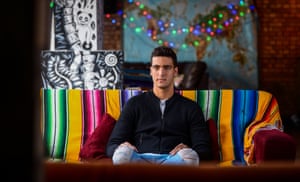 Cities with top-flight teams bearing their names, the Gothenburg Glenns and Jim Leighton's secret contact lenses? Yes, it's your weekly nerd-fest in the form of The Knowledge.
After their Dunning-Kruger kabuki performance in front of the DCMS select committee, the FA's top brass are doing what they always do in a crisis: keeping their heads down. Marina Hyde gets stuck into Greg Clarke, Martin Glenn and co.
Oh, and if it's your thing … you can follow Big Website on Big Social FaceSpace. And INSTACHAT, TOO!
THE BAD PLACE